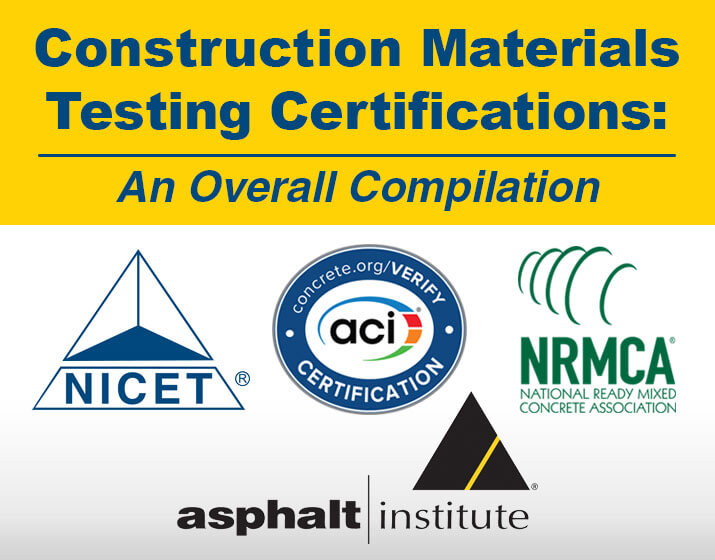 Since June, Gilson has shared a series of monthly blog posts with information and resources related to various technician certifications in construction materials testing. A video, Gilson Construction and Materials Training and Certification, is now also available online.
There have been a few changes in the industry over the past several months, and this final blog includes new information, updates and additional resources we've learned about. We are also summarizing a few key take-away points. Finally, this blog post links later to a PDF file of online resources with useful information related to the certification, study materials, examinations, and more.
Points to Remember:
Certification offers value. Whether earned through the American Concrete Institute (ACI), Asphalt Institute (AI), National Institute for Certification in Engineering Technologies® (NICET), or the National Ready Mixed Concrete Association (NRMCA), a technician certification indicates more than a passing score on the written and/or performance exam. It also shows the industry that you have gained additional expertise and skills that strengthen your value in the workforce and career. It gives you that competitive edge, especially with state and federal government entities which must align with the Federal Highway Administration's Code of Federal Regulations, 23 CFR, Part 637 when awarding contracts.
There is often a progression of higher-level certifications that must be followed from the lowest rung to the highest. NICET certifications are a perfect example, as this organization offers programs in asphalt, concrete and soils certifications with specific designations starting at Level I and progressing to Level IV.
Prepare for and test through a recognized state or national entity. Including those listed above, there are numerous other industry-recognized organizations that offer training/study materials, preparation classes, and testing for certification and recertification. This group includes, but is certainly not limited to, the National Center for Asphalt Technology (NCAT) at Auburn University, state Departments of Transportation (DOT), colleges and universities – which often partner with their state DOT, ASTM and AASHTO, National Asphalt Pavement Association, the Federal Highway Administration and National Highway Institute, and more. Keep in mind that your years of experience may not be all you need to get that certification. It's important to prepare sufficiently and thoroughly as the certification exams are detailed, and may include both a written and hands-on performance component.
Here's What's New:
The American Concrete Institute (ACI) reported a new technician certification category in September 2017, the Concrete Quality Technical Manager (CQTM) and the Associate Concrete Quality Technical Manager (ACQTM). These certifications are geared to those industry professionals considered a "specialist" or "expert," possibly a materials scientist or mixture design manager as explained in Concrete International. Certification requirements and study resources are posted online at ACI, which indicate more education and experience is expected:

Each requires a higher level of expertise and passing of written examinations for other concrete-related certifications.
The CQTM certification requires the candidate to have additional qualifications of specific degrees and/or a set number of years of related experience.

Asphalt Institute (AI) has scheduled the following dates in 2018 for the three-day National Binder Technician Certification Program at its facilities in Lexington, KY. The program includes a review of course materials on days one and two, and the written and laboratory practical examinations on the third day. An application form must be filled out to register for any of the dates, and class size for certification is limited to 13 students.
The 2018 dates are:

January 22-24
March 19-21
April 2-4
October 22-24

The National Institute for Certification in Engineering Technologies (NICET) continues to phase out the Work Element model, fully implementing its certification process through the Standard Model/CBT, otherwise known as Computer-Based Testing. NICET has thus far specifically re-defined designations at Levels I and II for its concrete, asphalt and soils certification programs. Levels III and IV changes are still a work in progress with the agency and its Subject Matter Experts, with final revisions expected by the end of March 2018.

NICET's changes to date are a refinement of the generic Levels I-IV, and more reflective of specific titles rather than just levels. As of the date of this post, the designations shown below are the same for concrete, asphalt and soils technician certifications. Check back regularly with NICET for forthcoming updates on:

Level I: Technician Trainee
Level II: Associate Engineering Technician
Level III: Engineering Technician
Level IV: Senior Engineering Technician



AASHTO's T3 Transportation Curriculum Coordination Council has numerous programs and resources to use in pursuing a construction materials technician certification in a number of related disciplines. Additionally, T3 provides links to many Industry Partners, Additional Training Resources, State Champions (DOT), and more.
The American Road & Transportation Builders Association Transportation Development Foundation now offers Safety Certification for Transportation Project Professionals (SCTPP). It has a vision of ensuring the safety of transportation infrastructure workers and "identifying common hazards found on transportation project sites and correct them to prevent safety incidents that could result in deaths or injuries." This is a professional three-year, renewable certification designed to meet protocols required by the American National Standards Institute (ANSI) and the International Organization for Standardization (ISO/IEC 17024); 112 transportation professionals have earned this certification so far in 2017. The National Asphalt Pavement Association recently joined with ARTBA in this new certification program.
It's worth repeating that there is a benefit to checking out local universities and any partnerships with their respective state Departments of Transportation (DOT). There have been articles recently in industry publications indicating that some colleges now offer road construction technician certification courses as part of the curriculum to help offset worker shortages that exist within some areas of the country.
As stated earlier, a Resource List of useful websites is available in PDF format, which allows for downloading or direct clicking to each site included in the list.

You can check out the first five blogs in this series, Construction Materials Testing: 7 Things to Know About Certification, The Road to Earning a Technical Certification in Concrete, Paving the Way to an Asphalt Technician Certification, Preparing for an Aggregate Technician Certification, and Soil Technician Certification for Materials Testing: Is it for you?
In closing, we hope the information provided through this series over the past several months has been useful and relevant in the pursuit of achieving a technician certification and advancing your career.