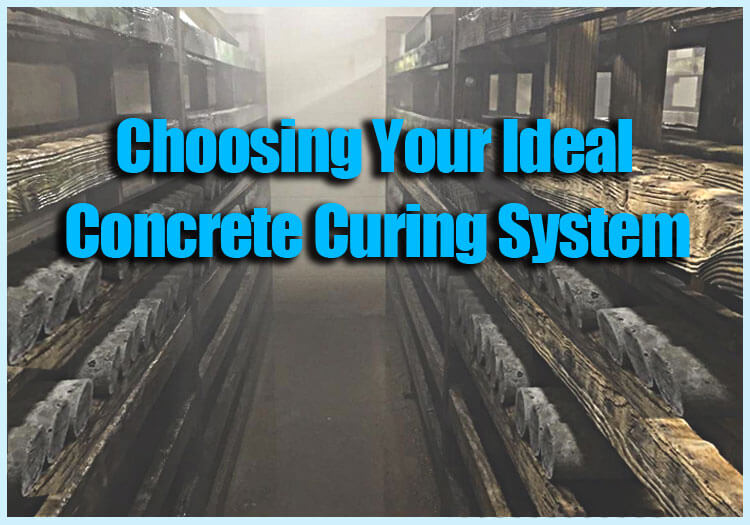 Concrete Curing
It's just another day at the office. Or in this case, the job site and the concrete specimens you've made have completed their initial curing phase. The specimens are now ready to be transported back to the lab to continue curing for another seven days, 28 days, or more. But how do you store them so that they will cure properly and continue to gain strength until they are tested? This can all be very challenging.
Why Curing of Concrete is Important
Accurate strength tests for concrete, grout, and masonry specimens in the form of cylinders, beams, cubes, and other shapes begin with proper curing as required by several ASTM and AASHTO standards.
However, one of the most common errors found in CCRL (Cement and Concrete Reference Laboratory) audits is the inability to maintain specified curing temperatures and moisture levels. Improper curing conditions directly inhibit optimal strength development of concrete strength specimens.
Curing of Concrete Methods
Moisture Rooms or Concrete Curing Tanks are both acceptable methods for concrete curing, and specific requirements for each are outlined in ASTM C511 and AASHTO M 201.
Which method is right for you?
An informal poll conducted by AMRL indicated the number of laboratories with Moisture Rooms versus Curing Tanks is evenly split, so both are equally popular and offer a viable solution. In this post, we'll educate you on the pros and cons to each and help you determine which procedure is right for your lab.
Moisture Room
Moisture Rooms look like saunas or walk-in refrigerators full of fog. Ranging from the size of a small closet to a large room, they can be pre-fabricated modular units or constructed in-place using masonry blocks or other moisture-resistant materials. They are sealed and often have an exterior panel-mounted with temperature and humidity monitoring equipment.
Diverse methods are employed for maintaining required temperature and moisture levels in the room, from simple fogging humidifiers to systems that blend hot and cold water supplies and distribute temperature-controlled water through a system of atomizing spray heads. Rooms using stand-alone foggers require a separate method of controlling concrete curing temperature to the specified 23.0±2.0°C (73.4±3.5°F). Concrete specimen storage is on racks or shelving, configured for maximum exposure of the specimen to moist air. Specifications require relative humidity levels to be maintained to at least 95%, such that the specimen surfaces both look and feel moist. Temperature and humidity levels must also be recorded.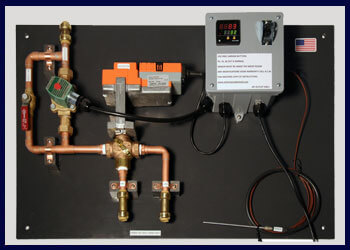 Pros:
The best choice for greater quantities of larger specimens
Easy to organize specimens by age and type
Specimens are easier to access and handle with pallet jacks and carts if needed
Cons:
Expensive to build or buy
Complex installation sometimes requires the integration of other equipment and systems
Maintenance can be expensive and time-consuming
Our recommendations:
Gilson's HM-630 Moisture Room Control Panel for a wide range of room sizes. This wall-mounted control panel features:
A complete automated control solution, blending hot and cold water supplies for distribution through HMA-298 Atomizing Spray Heads. Requires installation of supply and distribution lines.
Easy-to-read digital controller display for easy input of temperatures
Manual bypass system for continuous maintenance of specified temperature and humidity levels if power interrupted
Space for mounting of temperature chart recorder or data logger
Aquafog® GT 500 Fogging Fans for humidifying rooms up to 1,150 sq. ft.
Tap water from ordinary water supplies is forced past the high-speed fan blades
Centrifugal force and high-speed airflow atomize water droplets to produce a uniform distribution
Stainless steel, polyethylene, and anodized aluminum construction means a long, corrosion-free service life
Units with output from 1,760ft³ to 2,160ft³ per minute are available
Curing Tank
Livestock watering tanks and other water storage units make ideal concrete curing tanks for limited numbers of specimens. This method is acceptable and can be a good alternative to moisture rooms, especially for temporary or field applications. Water by itself may leach out calcium hydroxide from concrete specimens and reduce their strength, so the water must be saturated with added calcium hydroxide (hydrated lime).
The water temperature must be monitored, recorded, and maintained at the same 23.0±2.0°C (73.4±3.5°F) level as moist rooms. Tanks can also be added and interconnected for greater sample capacity and heating/cooling efficiency. Accessories for heating and circulating the curing water make it easier to maintain specified temperature levels. Accessories can be found on our Concrete Curing Equipment page.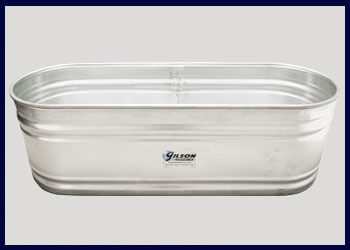 Pros:
Ideal for short-term and limited space applications
Unsophisticated equipment sets up quickly and is inexpensive
Sufficient moisture levels are never in question
Minimal maintenance required (clean and refill tanks every 24 months)
Cons:
Tanks are not space-efficient for large numbers of samples
Handling specimens requires waterproof gloves
Occasional leakage or spillage can occur
Large water surface can tend to humidify rooms
Our recommendations:
Steel Concrete Curing Tanks are available in 103gal (390L), 142 gal (538L,) 252gal (954L), and 300gal (1,136L). Features of the steel units include:
Pipe-reinforced top for extra-strong crush-proof rim
Sturdy rolled seam with an enclosed sealant to prevent leaks
22-gauge, zinc-coated galvanized steel with diagonal and horizontal corrugations for strength
Drain plug for simple maintenance
Plastic Concrete Curing Tanks are available in 40gal (151L), 110gal (416L), and 180gal (681L) capacities with the following features:
Heavy seamless construction from recycled materials
Resists rust and impacts
Leakproof
Flexible, with sloped sides to allow partial nesting in storage
Whichever method you choose, remember that proper curing is vital to allow the optimal development of strength for your concrete specimens.
Do you still need help choosing which concrete curing method to use? Contact our experts at 800.444.1508.