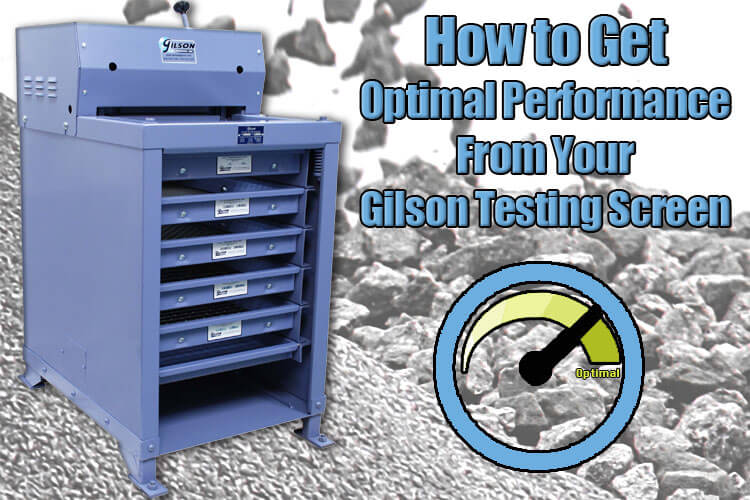 Gilson Testing Screens have been used for over 75 years and offer an effective way to quickly determine the gradation of ores, slag, mineral aggregates, and other coarse materials ranging from 4in (101mm) to No. 4 (4.75mm) sizes, producing an accurate separation in as little as three to five minutes.
The Gilson TS-1 and TS-2 Testing Screens are ruggedly-constructed machines that will provide years of service if installed and maintained correctly. Ensure your machine lasts another 75 years (or close to it) through proper operation, maintenance and repair. In this blog post we'll cover steps you can take to ensure your Gilson Testing Screen is in proper working order for many years to come. Complete instructions for operation, maintenance and repair can be found in the operating manual. You can also request a copy, ask us for technical assistance, or order factory-correct parts for any Gilson Testing Screen by contacting us at techsuppport@gilsonco.com or 800.444.1508.
Before using your Testing Screen each time, perform a quick check:
Visually inspect the machine for damaged or missing parts.
Make sure there is a sufficient amount of space around all sides of the machine for operation and maintenance.
Ensure unit is leveled and bolted properly to a rigid foundation such as a poured concrete floor.
For optimal operation, it's important to understand all of the safety and operating instructions noted in the manual.
Turn the machine on using the green button before loading the sample. The Testing Screen will work more efficiently if it is started first.
Using the optional TSA-169R Digital Lab Timer or a separate timing device, select a predetermined amount of time for separation, or process until separation is complete based on testing requirements. Turn off with the red button when desired time has elapsed.
To make sure your machine is well-maintained for future use and long service life, follow these important tips that will help you avoid major repairs and down-time.
Daily Lubrication: Use a standard grease gun with high-quality grease to lube the wrist pin assemblies at the lower end of the connecting rods, taking care to wipe away excess grease and dirt from parts after lubrication. Access is through slots in the front of the top cover.
Periodic Lubrication:

Upper connecting rod bearings are accessed through holes in the front of the top cover
For the TS-2, the lower threaded blocks can be accessed through ports on the lower sides of the machine case.

Check the Testing Screen's V-belt periodically for wear, tension and alignment. A good fit assures longer service life, less wear and quieter operation. It should be neither too tight nor too loose and should deflect about 1/4in (6mm). Worn or frayed belts should be replaced immediately.
Check clamp rod assemblies for excessive wear. Push the clamp rods back-to-front and side-to-side. If the clamp rods move more than 1/32in in any direction, then the guide bearings need to be replaced.
Monitor the level and quality of the hydraulic oil. The reservoir of the TS-1 should be filled to 1/4in from the top and the oil should appear clean. If the oil is dirty, replace the internal pump cover, drain and refill the system following complete instructions in the manual. The system uses a medium-viscosity hydraulic oil such as Shell Tellus 25 or Mobil AW 32.
Maintain the TS-1 Hydraulic Pump. Over time, the low-pressure hydraulic pump used to clamp screen trays in the TS-1 model may wear and develop leaks, especially under heavy use. Excessively worn or damaged pumps must be replaced, but if in otherwise good condition, the pump can often be repaired in the field using Gilson Repair Kits. Gilson offers both Basic and Complete repair kits for the pump, and this detailed video will guide you through each step of pump repair and replacement. TS-1 pumps can also be returned to our factory for refurbishment. Contact us for details at techsuppport@gilsonco.com or 800.444.1508.
Inspect hydraulic cylinders for wear. Unplug the Testing Screen and lock out the connection. Drain the hydraulic system, unscrew the clamp rod and pull the cylinder up and off the clamp rod. Examine the piston and the two quad rings. Quad rings will need to be replaced if you find hydraulic oil above the flange of the piston.
Keep it clean: Periodically brush or vacuum accumulated dust off of the inside and outside surfaces of the Testing Screen. This is a good time to check for hydraulic leaks, cracked hoses and frayed belts.
Use properly maintained Screen Trays

This is critical to achieve consistently accurate test results. Bent flanges or damaged screen cloth directly affect operation and results.

Examine wire cloth for conformance to specifications. Cloth that is distorted or damaged should be taken out of service right away. Replacement wire cloth sections are easy to install and are available from Gilson to meet ASTM E11 or ISO 535 requirements. Back-up wire cloth can be furnished as an option to install under finer mesh sizes and prevent damage to cloth.
Exercise proper storage and handling of screen trays. Take care not to bump or bend the tray flanges because this can make insertion and removal difficult and eventually cause them to break. The TSA-156 Screen Tray Rack provides organized storage for up to seven Screen Trays and protects them from possible damage.
With proper set-up, operation and maintenance, your Testing Screens will last longer and operate more effectively for accurate, consistent and efficient particle size determinations.
If you have other questions regarding Gilson Testing Screen, contact our Gilson technical support team at techsupport@gilsonco.com or call us at 800.444.1508.