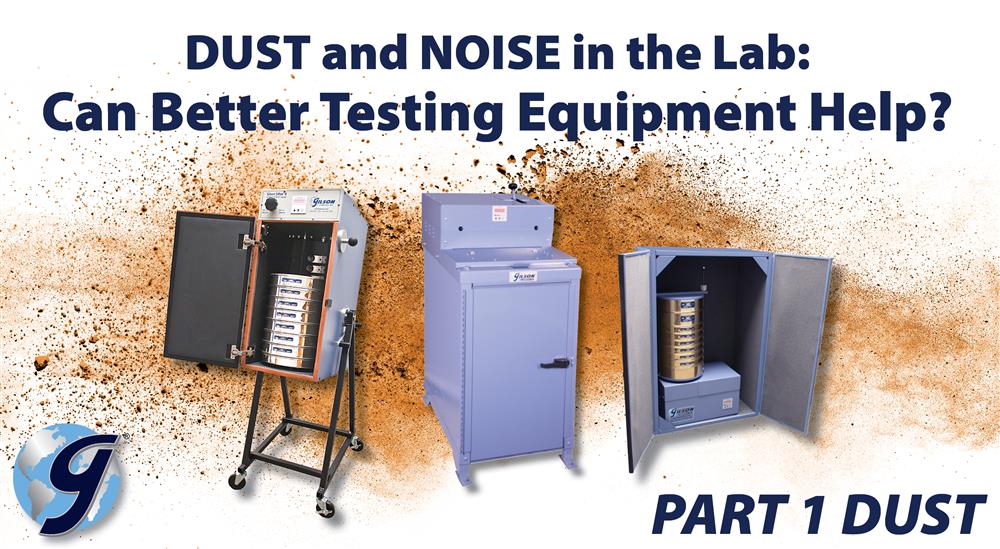 Safer working conditions have a way of developing over time as we become more knowledgeable. Remember this famous photograph from the 1930s of ironworkers eating lunch? No hardhats. No fall protection systems. Just some guys sitting on a beam 840ft (260m) up having a snack and shootin' the breeze. With time, we have learned how to eliminate these types of risks. However, a construction materials testing lab is, by nature, a noisy, dirty place because of what we have to do to test concrete, asphalt, aggregates, and soils. This two-part blog series will first examine the impact of dust and then the noise in testing labs, and how Gilson can help you reduce worker exposure to these factors.
Worker Exposure to Dust
As noted above, there are actions that need to happen as we perform tests to define the characteristics of construction materials. Nuisance dust (silica dust in particular) is an obvious by-product created as samples are dried, crushed, divided, sieved, and handled. There is useful information contained in this earlier Gilson blog regarding the Gilson enclosed sample splitters, as well as information on the hazards of nuisance dust and silica particulates from OSHA, NIOSH, and other regulatory agencies. Our discussion here will inform you about lab equipment that can minimize problems caused by dust from handling and testing materials.
Options for Sample Splitting
Incoming bulk samples of materials are intentionally larger than needed. Ensuring that final testing-size specimens represent all the characteristics of the original sample requires following established practices of sample dividing. Riffle-type sample splitters are the most common devices for representative sampling, but sample splitting works best with dry materials and this equipment is known for generating large amounts of dust as the divided material flows through the chutes.
Enclosed sample splitters confine this nuisance dust, preventing it from becoming airborne, eliminating sample loss, and simplifying clean-up. Enclosed splitters offer a variety of designs for processing of materials with particle sizes from 2in (50mm) to fine powders, and sample volumes from 1ft³ to 104in³ (28 to 1.7L).
The Totally Enclosed Universal Splitter is based on Gilson's popular SP-1 universal splitter and accepts sample volumes up to 1ft³ (28L), with a maximum particle size of 2in (50mm). Adjustable-width chutes and a gate-release hopper optimize performance for a variety of particle sizes. A separate kit converts existing SP-1 models to the totally enclosed version.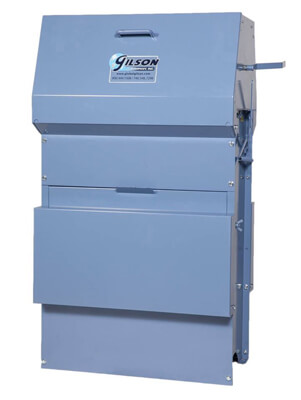 Gilson's exclusive universal splitters feature adjustable-width chutes and gate-release hoppers. Some Universal models have optional enclosure kits for conversion to low-dust enclosed operation:

SP-2.5 is used for benchtop or floor operation for samples up to 0.28ft³ (7.9L) with 1in (25mm) particle size and an available adapter encloses the splitter.
SP-3/SP-33 Mini-Splitters are designed for smaller quantities of fine granular materials and powders. Hopper capacity is 104in³ (1.7L) and they can be configured as enclosed splitters using this stainless steel kit.

Gilson Quadri-Splitter provides four equal sample portions from a total bulk sample size of 1.6ft³ (45L) for each splitting operation. Designed for coal and coke materials, it also does an excellent job of providing representative samples of fine aggregate and other granular materials up to 1in (25mm) nominal size. The operation is dust-free, and samples are protected from large fluctuations in moisture content.
Holmes Enclosed Sample Splitters are available in several models with capacities from 0.24 to 1.4ft³ (6.8 to 39.6L) for materials with about 0.188in (4.75mm) to 0.5in (13mm) maximum particle sizes. Holmes models are not designed with hoppers or gate-operated releases. Samples are poured directly from feed pans through the feed chutes, and the feed pans are allowed to remain inverted until the dust settles.
Split-O-Matic splitters are not specifically built for dust control, but their enclosed design means dust production is reduced by default. These models for large-scale lab, pilot plant, and production operations produce multiple fractions of materials in a single pass from bulk sample volumes up to 3ft³ (85L). Nominal maximum particle sizes can be as large as 2in (50mm).
Cleaner Gradation Tests
Characterization for many materials includes sieving for particle size distribution, a big source of dust. Using equipment that confines dust before it becomes airborne in the lab mitigates worker exposure and reduces demand on ventilation systems to maintain air quality at an acceptable level. These devices promote accurate gradation testing in a cleaner environment.
Cleaning Up LA Abrasion
Los Angeles (LA) abrasion testing is a test well-known for the high levels of dust and noise output. A sample of mineral aggregates and an abrasive charge of large steel balls are rotated in a large steel drum, as an internal shelf lifts the mixture in the drum and drops it against the opposite side. Gilson's Los Angeles Abrasion Machine addresses dust, noise, and safety issues by enclosing the rotating drum in a sound-attenuated steel cabinet.
We hope this informational guide has been helpful. Please contact us for more information on how Gilson testing equipment can help with dust and noise levels in your lab. Click here to view frequently asked questions on OSHA crystalline silica standards.