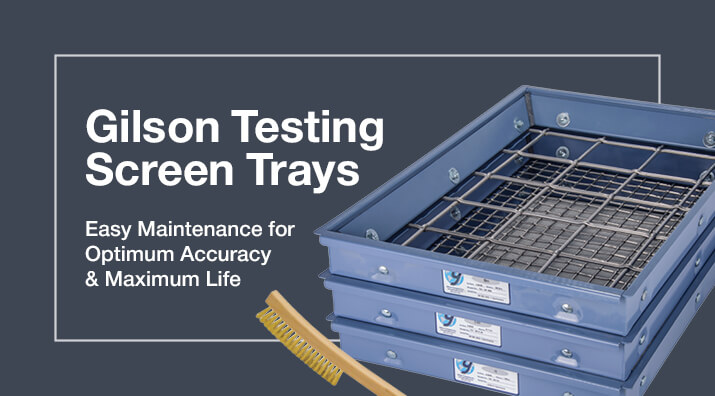 Table of Contents:
The heart of all Gilson Testing Screens is the screen tray. These rugged steel frames are fitted with testing-grade stainless steel wire cloth for accurate particle size testing of granular samples like aggregates, coal, ores, and other coarse materials. Screen trays for Testing Screen and Test-Master® units are interchangeable, and Porta-Screen® trays have a similar, but smaller design. Testing screens are optimized for analysis of a limited range of coarse sizes, but each is quite capable of testing well beyond the design range with some materials. The trays themselves are available in nearly every opening size noted in the ASTM E11 and ISO 565 and 3310-1 specifications. They can also be verified to meet the Inspection and Calibration grades in these standard specifications.
In this blog post, we'll take an in-depth look at how to get the most accurate results and extended life from your testing screen trays.

Preventing Damage Through Good Practices
You can take steps to maximize the service life of your Gilson screen trays by establishing proper procedures for handling and storage. There are some easy measures to take to assure they are always ready to go:
When starting a sample testing cycle, check to see that the tray frame flanges are straight. Insert each tray fully into the testing screen and make sure to tighten the clamping mechanism fully. The flanges flex up and down if the trays are not clamped securely during operation and will eventually break.
Gilson screen trays are known for their rugged construction, but unnecessarily rough handling when recovering sample fractions shortens their useful life. Avoid "slamming" the tray upside down on a surface to remove material, and never use a tool to poke out particles lodged in the mesh. It is a near-certainty that you'll distort the opening doing this. The Coarse Screen Tray Brush and your fingers are the only recommended tools for removing residue and dislodging coarse particles from screen trays. The rugged brass bristles and wooden handle avoid damage to the stainless steel wire cloth.
The Clean-N-Weigh Accessory allows convenient, and ergonomic processing of sample fractions retained on the screen trays. Using this device not only speeds up testing operations but also protects the tray flanges and prevents damage to the mesh from improper cleaning techniques.
Too often, screen trays are left out in the open or stacked on top of one another between uses, leaving them vulnerable to accidental damage. The Testing Screen Tray Rack and Porta-Screen® Tray Rack organize the trays neatly and keep them out of harm's way.
Steps in a Good Quality Control Program
Testing laboratories with well-thought-out operating procedures do not often get tripped up by simple problems. Experienced management staff at these facilities have anticipated potential stumbling blocks and put standard practices in place to avoid them. This philosophy scales down easily to tasks like particle size analysis with testing screens.
Order the correct certification grade. Off-the-shelf ASTM or ISO wire cloth is supplied as Compliance grade and is adequate for most purposes. For applications demanding higher proof of the accuracy, specify optional Verification Services when ordering screen trays or wire cloth. Mesh openings for Inspection and Calibration grades are measured individually on NIST traceable equipment, and the results are plotted on a verification report.
Keep track of the paperwork. Whether the screen cloth in your trays is verified or only compliance grade, hang on to the supplied documentation. These certificates contain the tray or wire cloth serial number and help you when tracking the status and condition of the equipment. They will also be essential if your lab is audited.
Check the screen tray condition frequently. A quick visual check before each use stops minor defects from causing significant problems.
Inspect the cloth for defects. Just a few damaged openings prevent accurate results.
Look for sagging cloth. Hold the tray horizontally. If the mesh visibly sags below the frame, it is likely the openings are distorted beyond tolerances.
Monitor performance over time. Only trained operators using NIST-traceable equipment can provide exact verification measurements of the wire mesh. Still, simple periodic performance tests done in your lab allow early detection of deficiencies in opening sizes and wire diameters. ASTM E2427 is a test method for the acceptance of sieves by performance testing and includes guidance on how the end-user can prepare their own reference materials.
When to Replace the Wire Cloth
Testing grade wire cloth is a precision measuring instrument, and specifications permit only slight variations in opening sizes and wire diameters. Even under normal use, degradation from abrasive materials erodes the wire, effectively enlarging the openings beyond tolerances. Aggressive cleaning and improper handling only accelerate the deterioration. Continually testing heavy sample loads eventually causes the mesh to sag, distorting the openings and limiting the active sieving area as a "bowl" forms in the middle.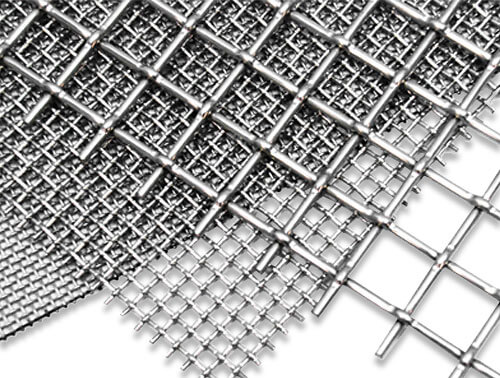 It's tempting to try to repair minor damage to testing-grade wire cloth to meet specification requirements. Simply put, defects cannot be fixed. When one opening is damaged, it distorts the dimensions of every other aperture around it, which means the mesh is no longer uniform. Trying to repair the other openings only extends the damage. Defects in the wire cloth or problems with performance tests dictate removing the tray from service.
Gilson Screen Trays outfitted with wire cloth are readily available. As a more economical alternative, the wire mesh in all Gilson screen trays is easy to replace. Replacement wire cloth sections for Testing Screen and Porta-Screen® trays are pre-cut to exact dimensions. Standard replacement sections meet ASTM and ISO requirements for Compliance grade wire cloth or are upgradable to Inspection or Calibration grade by ordering verification services, assuring accuracy, and documenting their accordance with the specifications.
There are differences in both the wire cloth sections and screen tray frames between coarser and finer opening sizes. Wire mesh with openings No.4 (4.75mm) and larger is rigid and self-supporting, so the replacement cloth sections simply lay flat in TSA-136 blank tray frames and are held in place by the tray liners. No.5 to No.14 (4.0mm to 1.40mm) replacement sections have a flat metal flange crimped onto the wire to add rigidity and use the TSA-137 tray frame.
Replacement wire cloth sections No.16 (1.18mm) and finer have hooked metal edges that interlock with the side liners of the TSA-137 tray frames to provide support. Tray frames using No.16 to No.200 (1.18mm to 75µm) wire cloth have metal support strips to minimize wear and distortion. For screens with wire cloth No.230 to No.400 (63µm to 38µm), No. 4 backing cloth provides extra support under the fine cloth. Backing cloth is also an option for other screen sizes. Tray side clamps for hooked edge wire and flat wire are NOT interchangeable. Follow this link to the Gilson video for step-by-step instructions changing the wire mesh in a screen tray.
When to Replace the Screen Tray Frame
The rugged, heavy-gauge steel frames of Gilson screen trays last for decades if cared for properly. However, they can still be damaged and will sometimes be beyond repair. If the flanges that secure the trays in the testing screen units are bent, sometimes they can be straightened with a hammer to slide into place and clamp properly. With time, those flanges may break, and the tray frame will have to be replaced. New screen trays typically include the wire cloth already installed, but if the old mesh is still in good condition, it can be swapped out and installed in a new Blank Testing Screen Tray.
We hope this blog post has given you some ideas for the care and maintenance of your Gilson Testing Screen Trays to extend their useful life. For help with any of your testing applications, contact Gilson's Testing Experts today.