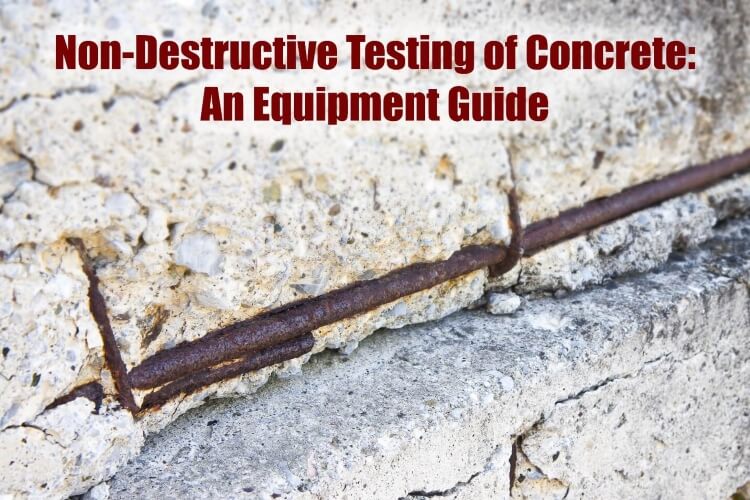 A quick web search will show that there are tons of non-destructive testing methods to choose from. With so many tests available, how do you know which method and equipment are right for you? This blog post will outline the importance of non-destructive testing, eight top methods, when you should use them, and what equipment you need.
What is the Importance of Non-Destructive Testing?
Testing hardened concrete in-place is often necessary to determine the suitability of a structure for its intended use. Non-destructive testing methods are used to evaluate concrete properties by assessing the strength and other properties such as corrosion of reinforcement, permeability, cracking, and void structure. This type of testing is important for the evaluation of both new and old structures. For new structures, the principal applications are mainly used to determine the quality of materials. Testing existing structures is usually related to an assessment of structural integrity.
The Benefits of Non-Destructive Testing
Non-destructive testing can also be used as an initial step to subsequent coring and more invasive measures such as:
Gauging characteristics of pre-cast, cast-in-place, or in-situ construction
Determining the acceptability of supplied material and components
Locating and categorizing cracks, voids, honeycombing, and other defects in a concrete structure
Determining the concrete uniformity prior to core cutting, load testing, or other more expensive or disruptive tests
Monitoring strength development related to formwork removal, cessation of curing, and load application
Determining the position, quantity, or condition of reinforcement
Confirming or locating suspected deterioration of concrete resulting from such factors as overloading, fatigue, external or internal chemical attack or change, fire, explosion, environmental effects
Assessing the potential durability of concrete while monitoring long-term changes in properties
Non-Destructive Testing Methods
Windsor Probe - Offers rapid, accurate determinations of concrete compressive strength. This method uses a hardened steel probe driven by a powder-actuated charge to penetrate the surface of the concrete. A manufacturer provides a chart of Moh's hardness for aggregate versus penetration depth in order to obtain the concrete strength.
When to use - The Windsor Probe is a useful option for estimating the compressive strength of concrete for a general assessment of concrete quality and relative strength in different parts of a structure. It's small enough for field use and operation is simple with little training required.
When to use - The Test Hammer is best used to establish a relative strength profile of a structure. Ideally, one technician can quickly canvas large areas with potential strength problems and narrow down specific areas for more rigorous testing using this instrument. Areas with lower rebound numbers can then be economically assessed with cores, penetration tests, or pulse velocity measurements while areas showing higher strengths can be bypassed.
When to use – Coring is often the end result of an assessment program that begins with the use of Concrete Test Hammers, Windsor Probes, or other non-destructive methods. Cores are frequently considered the final word in strength determinations of hardened concrete.
When to use- Maturity testing is a good option if you need a simple and reliable way of estimating early-age strength of concrete for the safe removal of formwork, and to reduce delays in putting pavements and structures into service.
When to use – Crack monitors can be used to measure cracking periodically in the field for easy, precise determinations of structural foundation movement.
When to use – A Moisture Emission Test Kit or Meter is useful when determining moisture deep beneath a concrete surface. This type of floor moisture test is also valuable when assisting contractors in identifying suspect areas that might need further testing, deeper in the slab.
When to use - A Relative Humidity Measurement System is useful for measuring humidity and other factors including temperature, dew point, and concrete surface moisture testing to ASTM F2659.
When to use - These methods are useful for uncovering the exact size, location, and depth of reinforcing steel and subsurface metalwork for quality control and effective recovery of test cores.
We hope our guide has made it easier to choose your ideal testing method. For a complete list visit our Non-Destructive Testing Equipment page!