Concrete maturity is a widely practiced and effective method for estimating the strength of concrete in place, based on its age and temperature history. Accurate strength prediction saves time and money by allowing efficient scheduling for form removal and reshoring or prestressing and post-tensioning operations. Mathematical equations compare a maturity index to previous physical tests of the same mix design. Easy-to-use data logging meters log times and temperatures from pre-placed probes, and maturity values can be calculated for periods from a few hours to a few months.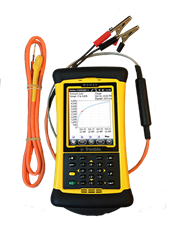 Model: HM-680
Currently Unavailable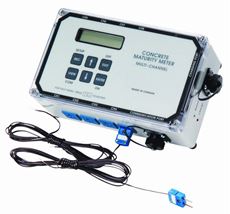 Pocket COMMAND Center™ 2.0 Maturity System Kit is a complete system for fast set up, right out of the box. Hand-held computer streamlines data collection from self-powered sensors or collects data with an optional USB cable and suitable Windows-based device.
4-Channel Data Logging Thermometer is a cost-effective way to gather time and temperature information for later transfer to an ASCII-format spreadsheet for calculation and analysis.
4-Channel Concrete Maturity Meters are designed for installation and activation on-site and can record data from four locations for up to 10 months. Current maturity values are accessed through keyboard and digital display.