Sieve Shakers save time and effort and improve accuracy for particle sizing operations. Shakers agitate a stacked series of test sieves to efficiently separate materials of all different types.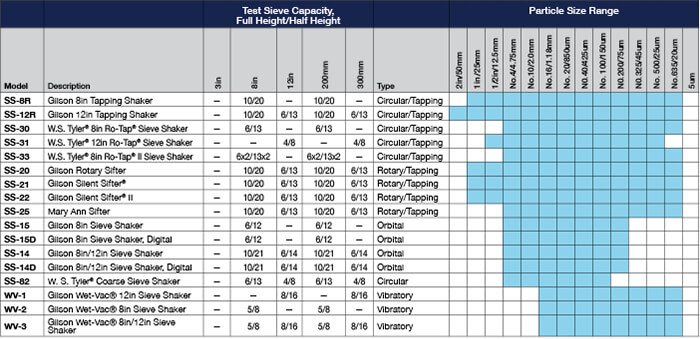 Click the Aggregate Sieve Shakers Comparison Chart to enlarge, print, or download. The chart compares sieve capacity, shaker agitation, and particle size.
These units provide consistent agitation to samples, improving accuracy, the passage of particles, and overall consistency between tests. Agitation lifts particles off of the sieve cloth to reorient them and allow many opportunities to pass through sieve openings. The proper sieve shaker offers consistent and repeatable separations compared to manual sieve shaking methods for particle sizing. Gilson offers a diverse line of Sieve Shakers suited to your material characteristics.
Still not sure which Sieve Shaker is best for your application? Read our Gilson Insights blog post: An Expert Guide to Selecting a Sieve Shaker.

For more information on Sieve Shakers, here are our related blogs: