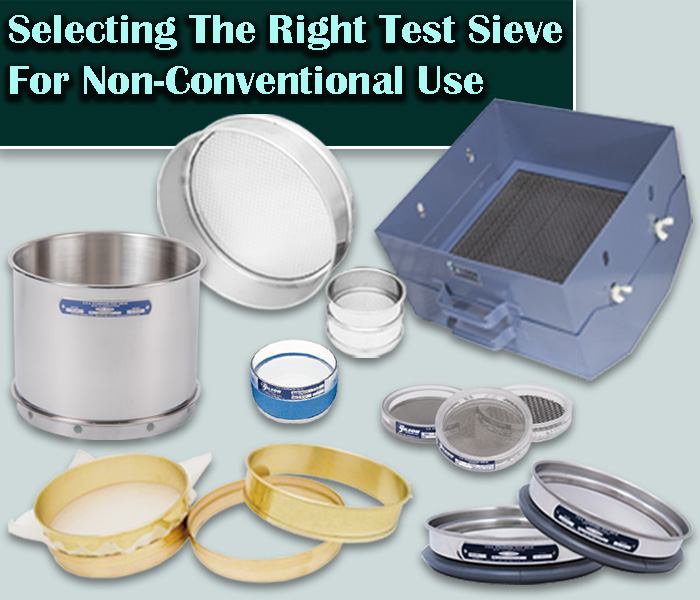 Sieving is the primary method for fraction separation, gradations, and particle size analysis for hundreds of different granular materials and powders like mineral soils, aggregates, powdered metals, dried food, pharmaceuticals, and more. All of these substances have unique properties and respond differently to different sieving actions. A surprising variety of sieve designs are built to test different materials more accurately or efficiently.
What Should I Know About Test Sieves?
One way to think of a "conventional" test sieve is one having a round brass or stainless-steel frame that nests with other sieves and mesh with an opening size from 4in to No. 635 (100mm to 20µm). We think of it as conventional because it is satisfactory for most test sieving methods and applications. Before we talk about non-conventional sieves, we need to understand the basic features important to all sieve types.
Mesh Clearly, the most important feature of any test sieve is the opening sizes of its mesh. Published specifications from ASTM, ISO, AASHTO, and other standards organizations clearly state opening sizes and permissible tolerances. Knowing the requirements of the test method and the size range of the sample material will be your guide in selecting opening sizes.

As noted above, the most common sieve mesh materials are brass and stainless steel. Brass is used in applications where sparking is a potential hazard and previously was more economical than stainless steel. Nowadays, brass has become much more expensive because of the rising cost of copper. For longevity, wear resistance, low sample contamination, and economy, stainless steel is the winner when sieving most non-combustible materials.

The electroformed mesh is produced through the electrodeposition of nickel material on a stainless-steel substrate. The process results in precise and consistent square openings on a flat sieving surface. The electroformed mesh is expensive, and the finer sizes can be fragile, but the ±1% to 2% opening tolerances make it unequaled for accuracy. This mesh is best suited for the precision sieving of fine powders.

Non-metallic meshes made from polyester or nylon are considerably cheaper than metal sieve cloth, but their wear resistance is comparatively quite low. Opening sizes are consistent but do not meet ASTM E11 or ISO 3310-1 specifications. They are a good option for disposable or non-standard testing applications, or to prevent cross-contamination of samples.

Frame Materials, brass, and stainless-steel sieve frames have similar pros and cons to brass or stainless-steel sieve mesh. Brass frames are resistant to sparking and were formerly economical but have now risen in cost. Stainless steel holds the edge for durability, low contamination, and cost-effectiveness. Stainless steel's resistance to deformation means sieve frames will hold their shape better for more accurate and repeatable operation over time.

Frames made from acrylic or polycarbonate plastics are less durable than metal but allow observation of particle action to fine-tune the input of agitation energy. They are also free of corrosion issues and less of a concern for sample contamination. Acrylic frames are machined for a close fit between stacked sieves, ensuring minimal loss of sample material.

Frame Diameters are the inside diameter of a test sieve, not the frame height or sample mass, which determines the allowable sample volume. For effective separation of fractions, each particle must be presented to multiple openings many times in different orientations during agitation. A large sample volume in a small frame means particles may not have sufficient opportunities to pass the mesh openings. A rule of thumb is that there should not be more than one to two layers of material remaining on the mesh surface at the completion of a test cycle.

The most popular frame diameters for conventional round test sieves are 8in and 12in (203 and 305mm) for ASTM E11 sieves, or 200mm and 300mm for ISO 3310-1 test sieves. (ASTM and ISO sieve frames will not nest together.) Available diameters range from 3in (76mm) to as large as 18in (457mm). ISO sieves have similar diameters.

Frame Height, optimizing the frame height of sieves not only impacts sieving accuracy and repeatability but also enhances production efficiency in your laboratory. Frame heights 1-1/2 to two times greater than the maximum particle size for the individual fraction allow enough vertical space for particle movement during the agitation for maximum tries at mesh openings. For coarse fractions, this usually means full-height sieves should be used. However, finer fractions allow the use of intermediate or half-height sieves and the opportunity for more sieves in a stack and reduced stack height for each test. That can translate to fewer test cycles and less time for a complete gradation. For wet-wash sieving, increased frame height reduces sample loss during washing.
Why Would I need a Non-Conventional Sieve?
Non-conventional sieves come in many forms, but all have some unique features or features that make them more functional, more accurate, or more economical for use with certain methods, applications, or materials. The charts below highlight the features of some non-conventional sieves and their uses.
ASTM Precision Electroformed Sieves

Properties

Electroformed sieves have very precise and consistent mesh openings with tolerances of ±1µm to 2µm
Opening sizes range from 5µm to 75µm in 3in or 8in diameter stainless steel full or half-height frames

Test Standard(s)
Applications

Precision sizing of fine granular materials and dry powders
More effective than woven-wire sieves for precise particle sizing small-volume samples of pharmaceuticals, chemicals, cement, food and grain, powdered metals, ceramics, and more.
Ideal for use in many vibratory sieve shakers

Related Sieving Equipment
Additional Information

Electroformed sieves with special opening sizes can be ordered
Micron Air Jet Test Sieve

Properties

Manufactured to fit old-style Micron Air Jet Sieve devices
200mm diameter stainless steel frames are fitted with a special sealing gasket
ASTM E11 compliance grade stainless steel mesh in sizes from No. 635 to No.4 (20µm to 4.75mm)
Verification services available for inspection or calibration grades

Test Standard(s)
Applications

For use with old-style Micron Air Jet Sieves use gentle air pressure to separate 10 to 100g dry powder samples on a single sieve
Pharmaceuticals, dry chemicals, ores, metal powders, aggregates, ceramics, cement, concrete, and coal materials

Related Sieving Equipment

Micron Air Jet Sieve Analyzer (old style)

Additional Information
Deep Frame Wet-Wash Sieves

Properties

Stainless Steel or Brass/Stainless construction
Frame depths from 4 to 8in and diameters from 3 to 12in
Brass Frames work well for most applications
Stainless Steel frames are more economical, more durable, and offer a longer service life
Deep frames prevent sample loss during washing
Holes in the bottom skirt allow drainage

Test Standard(s)
Applications

Purpose-built for wet wash sieving
Fines content determinations or washing away excessive fines from specimens prior to sieve tests
Good for wet separations of fragile sample specimens of pharmaceuticals, chemicals, ores, metal powders, aggregates, ceramics, cement, concrete, and coal specimens

Related Sieving Equipment
Additional Information

Available with optional No. 30 backing cloth for extended service life
Replaceable Mesh Wet-Wash Sieves

Properties

Replaceable Mesh Wet-Wash Sieves have brass frames and all the advantages of regular wash sieves with the added convenience and economy of replaceable stainless steel mesh cartridges
Available in 8in frame diameters with 4in or 6in (101mm or 152mm) depths and mesh cartridges in No. 200 or No. 325 (75µm or 45µm) openings
Cartridges are pre-fitted with backing cloth for reinforcement

Test Standard(s)
Applications

Fines content determinations or washing away excessive fines from specimens prior to sieve tests
Good for wet separations of fragile sample specimens of pharmaceuticals, chemicals, ores, metal powders, aggregates, ceramics, cement, concrete, and coal specimens

Related Sieving Equipment
Additional Information

Mesh cartridge assemblies combine ASTM E11 stainless steel primary mesh with sturdy stainless steel backing cloth for maximum service life
Rocker Screen Set

Properties

The Rocker Screen is a 12in square steel box with an angled bottom pan designed for sample agitation by manual rocking
The frame accommodates interchangeable stainless steel wire cloth squares available in a wide selection of ASTM E11 opening sizes

Test Standard(s)
Applications

Efficient primary separation of coarse-grained samples for scalping or field gradations of mineral aggregates, ores, coal, and other coarse materials

Related Sieving Equipment
Additional Information

Not recommended for use with mesh sizes below No. 20
Two-Part Replaceable Mesh Sieves

Properties

Brass or Polycarbonate 8in (203mm) diameter two-piece frames hold polyester or nylon mesh squares in proper tension when pushed together
Clear polycarbonate frame assemblies allow viewing of samples during testing and will not corrode
They nest with each other but not with other frames
Brass Frames nest with each other or with conventional metallic 8in frames

Test Standard(s)

Cloth Square openings are consistent and equivalent to ASTM E11 but do not meet tolerance requirements

Applications

Two-part frames work well with disposable non-metallic cloth for non-standard separations and scalping, or to reduce the risk of sample contamination
Polyester cloth has strong wet stability; nylon cloth has high tensile strength but tends to stretch when wet
Replaceable mesh sieves are suitable for dry chemicals, powders, sand, and soils

Related Sieving Equipment

Polyester and Nylon Mesh Squares are available with opening sizes from No. 635 to No. 20 (20µm to 850µm), as well as in nominal sizes with very fine openings of 7µm, 10µm, and 15µm

Additional Information

Polycarbonate frames offer totally non-metallic testing and easy sample viewing
Brass frames have a longer service life and nest with conventional test sieves
3in Non-Metallic Sieves

Properties

Durable polycarbonate frame sieves by Gilson are fitted with polyester mesh with openings from 7µm to No. 50 (300µm)
Heat-cured glued construction features a polyolefin band covering the frame joint for a tight nesting seal

Test Standard(s)
Applications

For manual use only
Lightweight and small size is convenient for separating small volumes of fine materials like pharmaceuticals, chemicals, food and grain, and metal powders

Related Sieving Equipment
Additional Information

Sieves are autoclavable and nest with each other, but not other sieves
3in Acrylic Frame Test Sieves

Properties

Clear acrylic frames are precision machined and fitted with ASTM E11 stainless steel with opening sizes from No. 3 ½ to No. 635 (5.60mm to 20µm), or ASTM E161 Precision Electroformed cloth with openings from 150µm to 5µm
E11 Sieves can be verified to Inspection or Calibration Grades

Test Standard(s)
Applications

Particle sizing and separation of dry powders and fine granular materials ranging from 5.60mm to 5µm
Pharmaceuticals, chemicals, food and grain, metal powders

Related Sieving Equipment
Additional Information

E161 Precision Electroformed Sieves can be used for sizing materials to 5µm with an accuracy of ±1 to 2µm
Test Sieves are Not a One-Size-Fits-All Product
We hope this blog post has helped you understand the features of conventional vs non-conventional test sieves. Please contact our testing experts to discuss your application.