Gilson Two-Part Replaceable Mesh Sieves offer useful alternatives to conventional test sieves that have permanently installed wire mesh. The service life of woven wire mesh can be shortened by abrasive materials, high sample loads, or stretching during wet washing.
Sensitive samples can be contaminated by exposure to previously tested materials. Testing hazardous materials may require extensive deep cleaning of sieves before continued use. When permitted, replacing used sieve mesh in a reusable frame is cost-effective, maintains accuracy standards, and prevents cross-contamination of sample materials.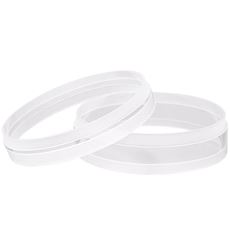 Models: SV-126, SV-125, SV8-2C, SV8-2F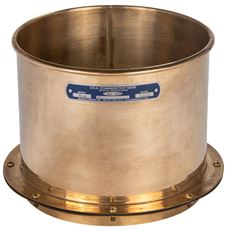 Models: WT-204, WT-206, WT-324, WT-326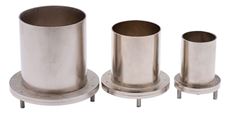 Models: WT-60, WT-61, WT-62

Each metallic or non-metallic frame design accepts unique replacement mesh models. See individual listings for compatibility. Available mesh materials include ASTM E11 testing grade stainless steel, and non-metallic nylon or polyester woven monofilament mesh.
Brass or Polycarbonate Replaceable Mesh Sieves are available with 8in (203mm) diameter brass or clear polycarbonate frames and accept pre-cut squares of non-metallic nylon or polyester mesh. The two parts of the frames are pushed together to tension the mesh between them.

Polyester or Nylon Cloth squares are specially designed to fit in either brass or non-metallic two-part frames. The monofilament cloth is cut into 10x10in squares. Each mesh square has a resilient material embedded in the mesh in a circular shape.

Brass Wet-Wash Replaceable Mesh Sieves have 8in diameter brass frames with a depth of 4in or 6in, and feature screen assemblies that can be replaced quickly when worn beyond acceptable limits. Screen assemblies are sturdy ASTM E11 No. 200 (75µm) or No. 325 (45µm) stainless-steel with a built-in backing cloth.
Nickel-Plated Wet-Wash Replaceable Mesh Sieves are available in 2in, 3in, or 4in diameter frame size and are corrosion-resistant. They accommodate replaceable ASTM E11 stainless-steel mesh discs. Popular for particle-size testing of cements and other fine materials. Built-in legs allow drying in ovens or on hot plates.

Replaceable Mesh Discs are designed to fit the nickel-plated two-piece wet-wash frames. They are tensioned and sealed by a matching ridge and groove in the sieve frame. Discs have opening sizes from No. 60 (250µm) to No. 635 (20µm).
For more information on Two-Part Replaceable Mesh Sieve, here are our related blogs: