Triaxial Cells offer solid performance with Load Frames and Master or Auxiliary Control Panels in testing shear strength and stress-strain relationships of soil specimens in accordance with ASTM and AASHTO standards. Undisturbed or remolded soil specimens can be tested as required by the test method.
Click here for a diagram that indicates a Triaxial/Permeability typical set-up with a Master Control Panel, Test Cell, and other relevant equipment required by test standards.
Models: HMA-517, HMA-517S
Models: HMA-518, HMA-518S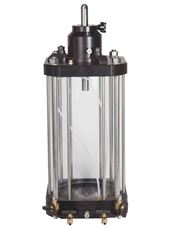 Models: HMA-519, HMA-519S, HMA-519H, HMA-519HS

Each Triaxial Cell must be equipped with a Triaxial Test Cell Kit, which contains components required for mounting and testing specific sample diameters. Gilson's Triaxial Cells have clear acrylic or aluminum chambers and are designed for use with Load Frames and Control Panels by Gilson as well as those of other manufacturers.

These rugged cells are available with brass or stainless steel fittings, with models to test specimens in diameters ranging from 1.4 to 6in (36 to 152mm). The Triaxial Cell for 6in dia. Specimens is available in Standard 100psi (6.9bar) or High-Pressure 250psi (17.2bar) models.
Triaxial Cell, 1.4 to 3in dia. Specimens have a 4.75x10.75in (121x273mm) chamber and can accommodate cylindrical specimens in diameters from 1.4in (35.6mm) to 3.0in (76.2mm) when fitted with appropriate Test Cell Kits.
Triaxial Cell, 1.4 to 4in dia. Specimens have a 5.0x12.125in (127x308mm) chamber interior. In addition to the specimen diameter range listed above, this Cell also accommodates 4.0in (101.6mm) specimen diameters.
Triaxial Cell for 6in dia. Specimens are designed for use only with 6in (152.4mm) cylindrical specimens. It has a 9.625x18in (244.5x457mm) chamber interior.
For more information on Soil Testing, here are our related blogs: