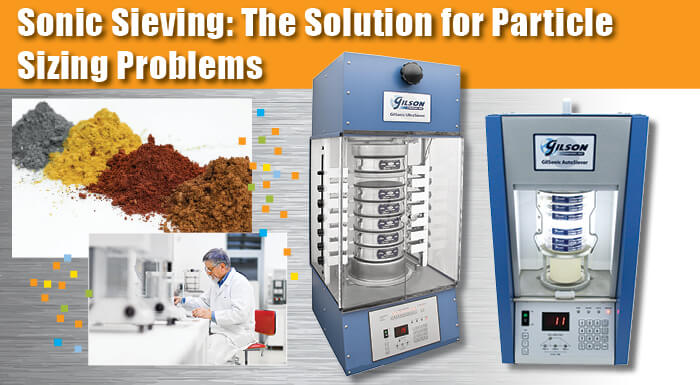 If you use sieving to determine the particle size distribution of various materials, you likely understand the appeal of the sonic sieving method. Test sieves are an efficient, productive, and economical means of characterizing the gradation of dry granular materials. However, this method is not without limitations.
The particles of some materials become less manageable for sieving in size ranges finer than 20µm or so.
Hygroscopic materials tend to agglomerate (clump) more.
Low-density materials respond less to mechanical sieving action and don't readily fall through mesh openings.
Lightweight particles respond to static charges more and tend to "fly away".
Ordinary sieve shakers with mechanical tapping or vibratory actions can have problems processing problematic materials, and fine sizes for conventional woven wire sieves stop at 20µm (No. 635).
If these obstacles are making it difficult to produce accurate, repeatable results for finer sizes, it may be time to look at alternatives to conventional sieving.
Accurate Particle Sizing for Fine Materials
Sonic sifting addresses these issues head-on while preserving the economy and simplicity of sieving for grain size determination. The original Sonic Sifter was developed by Charles Ward over 60 years ago and used 3in (76mm) diameter acrylic frame sieves to characterize small samples of powders in the 850µm (No. 20) to 5µm range. This report from the U.S. Army Corps of Engineers outlines some advantages of sonic sieving.
The proven method and equipment are still widely used for sizing such diverse materials as pharmaceuticals, paint pigments, fine sands, mineral aggregate powders, cosmetics, and powdered metal. A Sonic Sifter has even tested lunar soil samples brought back by the Apollo 11 moon mission!
The larger model Gilsonic UltraSiever® Sonic Sifter accepts 8in (203mm) diameter sieves and can test larger volumes of material with particle sizes up to 4.75mm (No. 4).
The Sonic Sieving Method
In sonic sieving applications, the sieve stack forms an enclosed column of air, capped on the top and bottom by a diaphragm and fines collector made of flexible latex. A loudspeaker positioned over the sieves acts as an audio generator, causing rapid vertical oscillation of the air column at a frequency of 3,600 cycles per minute.
The rapid pulses of airlift each particle off the sieve surface, causing it to reorient and land on a different opening. The passage is assisted by horizontal and vertical tapping actions. The amplitude, or power setting, is adjustable and determines the intensity of the sieving action. Test times can be as little as one to three minutes, and operation is quiet and dust-free.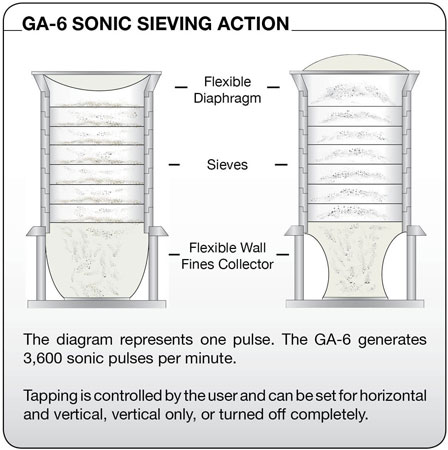 Mechanically activated vertical and horizontal tappers are switchable to use separately or together if needed. Vertical tapping prevents the blinding of mesh and assists the passage of near-size particles. Horizontal tapping reduces the agglomeration of material caused by static or hygroscopic attraction.
Efficient, Programmed Operation
Up to 10 customized testing programs can be stored in memory for optimized testing of unique materials. Each program includes three timed phases:
Phase one gradually ramps up the amplitude, allowing gentle separation of fines before static attraction can trigger agglomeration of the particles.
Phase two dwells at the maximum selected amplitude for the duration of the test cycle. The optimum maximum amplitude is determined experimentally by observing the agitation of the sample material during program input.
Phase three is the final ramp-down, allowing amplitude energy to steadily taper off and promoting the passage of near-size particles through the mesh.
Programmed test cycles allow gentle separation of fractions with less material attrition or more intense application of power to separate difficult materials. Regulation of agitation and tapping are more precise than vibratory or mechanical sieve shakers. Output energy from the audio generator, testing times, and ramp/dwell intervals precisely tailor the testing cycle to materials of different textures and densities.
The AutoSiever Advantage
Compact, portable and quiet sifters are easily relocated anywhere in the lab
Capacity of seven ASTM E11 sieves or three ASTM E161 precision electroformed sieves
Fast test times for complete separations
Adjustable amplitude is programmable for optimum separations
Programmed test cycles ensure optimum results
Selectable vertical and horizontal tapping for best fraction separation
Switcable power input operates on multiple electrical supplies
Special Sieves Enhance Performance
3in (76mm) diameter sieves for sonic sifters have clear acrylic frames for easy observation of the particle separation process. Each frame is machined for a close fit when nesting with other sieves, protecting the air column, and reducing sample loss.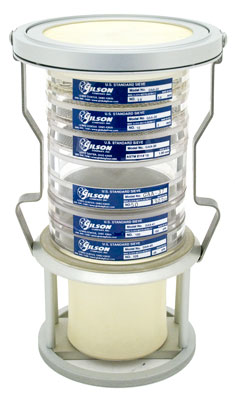 Acrylic Frame Test Sieves fitted with conventional woven-wire cloth are also available. These sieves meet ASTM E11 requirements and are supplied with an ASTM certificate of compliance. They are available in opening sizes from 5.60mm to 20µm (No. 3 ½ to No. 635).

Precision Electroformed Test Sieves feature precisely-sized mesh to bring out the best performance characteristics of the sonic sifter and are the best choice for testing fine powders down to 5µm. Production of electroformed cloth starts with the electrodeposition of nickel on a stainless steel grid to produce a precisely-sized flat and square opening. Each sieve is supplied with a Certificate of Compliance to meet ASTM E161 standards. Precision electroformed sieves are consistently more accurate than woven-wire sieves and available in sizes to 5μm with tolerances less than ±2µm.

8in (203mm) diameter test sieves for the larger Gilsonic UltraSiever® offer seven times more surface area for higher volume samples and can separate materials with up to 4.75mm (No. 4) top-size. These test sieves have conventional stainless steel frames and feature precision electroformed mesh (ASTM Precision Electroformed Sieves) or woven-wire cloth (ASTM Test Sieves and ISO 3310-1 Test Sieves). Adapters for the large model allow the use of ISO 200mm test sieves.
Note: An Adapter Set (sold separately) for the UltraSiever® allows the use of ISO 200mm test sieves.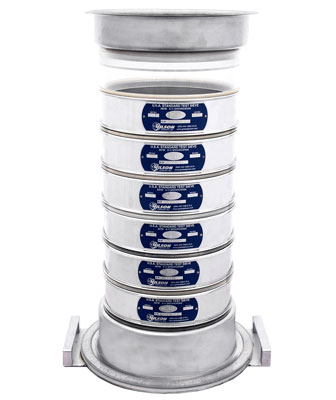 When purchasing any of Gilson's Acrylic Frame, ASTM, or ISO Test Sieves, each sieve is supplied with a Certificate of Compliance.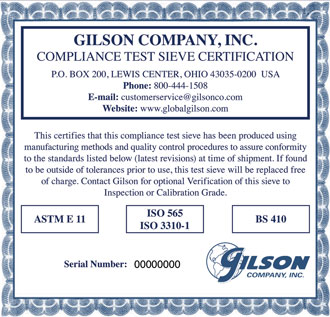 If you're finding it difficult to produce accurate particle size distributions for fine materials efficiently, Contact our Testing Experts with questions and discuss a free demonstration test to see if the Sonic Sifter is right for your application.