Unit Weight Measures are cylindrical volumetric containers for determining unit weight bulk density and other characteristics of concrete and aggregates, and void content of aggregates. Models are available in precision-machined cast aluminum or durable welded steel units, each with nominal volumes of 1ft3, 1/2ft3, 1/3ft3, 1/4ft3, or 1/10ft3. Both styles are water-tight with top and bottom true and even. Rugged construction prevents deformation under rough usage.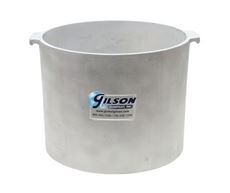 Models: HM-10, HM-11, HM-12, HM-13, HM-29
Models: HM-20, HM-21, HM-22, HM-28, HM-23
Aluminum Unit Weight Measures

are machined for accuracy and meet ASTM C29, ASTM C138, AASHTO T 19 and AASHTO T 121 test standards. Integral handles are formed into the castings.

Steel Unit Weight Measures

can be user-calibrated for volume and used in applications that do not require strict compliance with standard test methods. They are equipped with bail handles.