Flash Point Testers determine flash point of petroleum products and various other flammable liquids.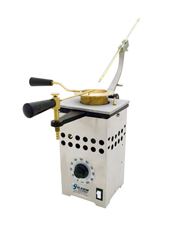 Cleveland Flash Tester utilizes the Cleveland Open Cup Method of determining flash and fire point of petroleum products igniting above 175°F (79°C), and meets ASTM D92 and AASHTO T 48 standards.

Tag Open Cup Tester determines flash and fire points of liquids at temperatures up to 325°F (163°C). It also determines flash points of cutback asphalts with temperatures less than 200°F (93°C).