Nondestructive Concrete Moisture Meters measure moisture content instantly on concrete floor surfaces prior to the application of floor coverings.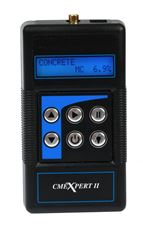 Designed and calibrated specifically for concrete, they can also determine comparative readings on stone, lightweight concrete, gypsum floor screeds, ceramic tiles and other masonry type materials.
The meter is simply pressed firmly onto a clean concrete surface and impedance measurements are obtained by electrodes located on the base of the meter. No drilling is required. Both meters are housed in rugged, ABS Plastic cases, and are supplied with batteries.
Optional HMA-661 Calibration Check Plate is used to monitor proper operation of either HM-668A or HM-669 Meters. Adjustments or recalibration must be performed by the factory.
HMA-650 Hygro-i Relative Humidity Probe, used exclusively with the CMEXpert ll, allows the meter to be used as a stand-alone RH meter, with accuracy traceable to NIST for humidity in %RH, grains/lb, or g/kg, as well as temperature and dew point. Humidity Range, 0—100% RH non-condensing, accuracy is ±1.8% from 10%—90%RH at 25°C, and ±3% above 90%.