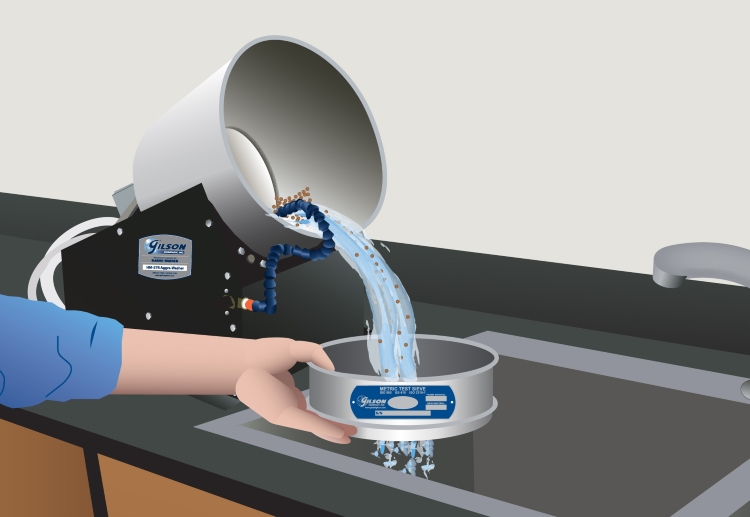 Particle size samples are often agitated in water and washed over a fine sieve such as a No. 200 or No. 325 (75 or 45µm) to remove undersize fines. This might be done simply to make the sample easier to process through sieves after drying, or to actually determine the percentage of the fines fraction. ASTM C117 is a method to measure the percent of materials finer than No. 200 (75µm) in an aggregate sample.
What is the Purpose of an Automatic Aggregate-Washer?
Manual washing methods to remove sample fines are effective but have the tendency to generate inconsistencies. Automatic Aggregate Washers gently and thoroughly wash soil and aggregate samples to remove fines for more precise and consistent results.
How Does it Work?
Continuous washing suspends the aggregate fines in a slurry with the water that overflows from the wash drum and onto a No. 200 (75 µm) or other fine sieves.
The operator connects vinyl tubing to a standard copper water line using a piercing saddle valve to provide a sufficient water supply for the aggregate washing process. Approximately 15ft (4.5M) of 1/4in tubing and a saddle valve are included.
Water is controlled with an adjustable valve and continuously fed into the revolving, inclined stainless steel drum through a flexible goose-neck nozzle.
The sample is gently agitated until overflow is clear. Overflow is directed into the fine sieve to prevent loss of oversize materials in the decanted wash water.
What Are the Benefits?
Totally enclosed gear motors promote safety during drum rotation
Automatic Aggregate Washers save time, increase repeatability and eliminate the high costs associated with manual methods
Long 6ft (1.8M) power cord with built-in GFCI connection for safe operation
Effective loss prevention of oversize material when paired with a Gilson Deep Frame Wet-Wash sieve
Compliant with AASHTO T11, ASTM C117 and ASTM D1140
What Do We Recommend?
Gilson Automatic Aggregate Washers allows users to accurately and efficiently determine the amount of fines in aggregate and soil materials. They are also effective when preparing samples with high fines content for wet sieving. We recommend two models:

HM-57R Large Aggregate Washer that enables the processing of large aggregate samples up to 15lb (7kg). The drum size is 11in diameter by 13in high (279x330mm). Additional HMA-261 drums can be ordered to improve sample processing efficiency.
HM-52 Small Automatic Aggregate Washer is portable and convenient for placement on a countertop next to your sink. This model is optimum for washing geotechnical or small aggregate samples up to 6-8lb (2.7-3.6kg). Fixed-angle removable drums can be used as weighing containers and goose-neck water tubes swivel out of the way for easy drum removal. Stainless steel drums are 9in 10.75in (229x273mm) Dia. x H. Additional HMA-260 drums improve sample processing speed.
Wet Washing Sieves are optimal when working with fragile and non-soluble specimens. These specialized sieves are available in various types from ASTM E11, Replaceable Mesh, and Elutriation wet wash sieves.

Note: 3in (76mm), 8in (203mm), or 12in (305mm) Sieving Pans constructed with drains with barbed fittings are available if the Wet Wash Sieve cannot be placed directly over a sink or floor drain.
For more information on Aggregate-Washers call us at 800.444.1508 to speak to an expert!