Gilson ASTM test sieves are available in all mesh opening sizes. These sieves meet ASTM E11 and AASHTO M 92 requirements for Compliance Test Sieves, and are serial numbered and supplied with certificates of manufacturing conformance. Verification of New Sieves upgrades ASTM and ISO Test Sieves to Inspection or Calibration grade.

ASTM Test Sieves are available in three styles – stainless steel frame with stainless steel cloth, brass frame with brass cloth, or combination brass frame with stainless steel cloth. ASTM Test Sieves come in several diameters: 3in (76mm), 6in (152mm), 8in (203mm), 10in (254mm), 12in (305mm) and 18in (457mm) and full or half-height frames with different sieve sizes for a wide range of particle sizes. 12in Sieves also have an option for an Intermediate Height Frame. The selection of frame diameter and height is based on specimen volume and particle size.
For more information on setting up a quality control program, read our blog 5 Steps To Setting Up A Flawless Quality Control Program.
Please note that 6in, 10in, and 18in ASTM Test Sieves are nonreturnable.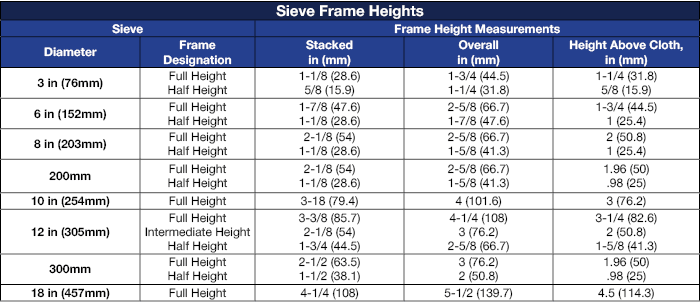 Click the table above to enlarge, print, or download
Sieve Verification Services are provided. Each sieve is serial numbered and supplied with a certificate of manufacturing conformance in accordance with the latest revisions to ASTM E11 and AASHTO M 92 requirements. Sieves are supplied as Compliance Grade but can be upgraded to Inspection or Calibration Grades through Gilson Verification Services when documentation of greater accuracy is required.
Master-Matched Sieves are another optional upgrade for 8in stainless steel or combination sieves from No. 8 (2.36mm) to No. 325 (45μm). Master-Matched Sieves are verified to meet ASTM E11, then performance-tested to correlate with a master sieve or set of sieves held in Gilson's reference laboratory. The upgrade assures uniformity for multiple sieve sets in use at different locations. To upgrade from Compliance to Inspection/Calibration Grade or for Master-Matched Services, select from the Sieve Verification drop-down menu when ordering.
Stainless Steel Backing Cloth is a No. 30 mesh added to reinforce No. 70 (212µm) or finer test sieves. Backing Cloth is optional, extends service life and prevents sagging and tearing of fine mesh. When ordering through the website, availability is limited to 8 or 12in diameter sieves. To specify with other diameters, please contact
Customer Service
.