Soil Resistivity Test Equipment
Soil resistivity testing equipment utilizes the Wenner 4-pin method developed by the National Bureau of Standards. The test determines the average resistivity of the soils to a depth equal to the spacing between electrodes (pins). Digital or Analog Soil Resistivity Meters are available separately. The selection of one is required for testing. A test kit with the other components needed for soil resistivity measurements is also available. Testing with the Wenner 4-pin method meets ASTM G57 and AASHTO T 288 standards.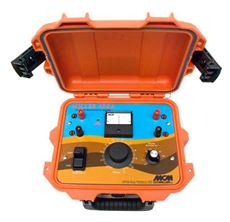 Soil Resistivity Meters are required for use with the Soil Resistivity Kit to determine soil resistance values. Meters are available in analog or digital models. The analog model has 8 ranges from 0.1 Ohms to 1.1 Mega-Ohms and operates with C-cell batteries. The digital unit has a total range from 0.01 Ohms to 10 Mega-Ohms and comes with ProCP soil resistivity software. It uses D-cell batteries. Both models come with a NIST Traceable Certificate of Calibration. They are each also equipped with a weatherproof carrying case to conveniently store and carry the meter and components.

Soil Resistivity Test Kit includes components required for determining the resistivity of soil. The test kit is designed for the maximum pin spacing of 20ft (6.1m) recommended for a standard survey. The kit contains a soil resistivity reel, soil box with test lead wires, and coil pins. A sturdy plastic case conveniently stores and carries kit components.