Rotary lab sifters are fast, safe, and efficient because of advanced design. The sifters use a reliable, proven design for efficient particle size separations of granular materials on test sieves. Moving parts are totally enclosed by the cabinet which reduces dust and noise output. Some state DOTs prefer rotary sifters for gradation tests of mineral aggregates.
A stack of sieves up to 26in (660mm) high is placed in the cabinet enclosure and tilted back for testing. The sieve stack is rotated by drive rollers at a constant speed. Multiple hammers tap each sieve as they rotate to promote particle passage through the mesh.
Models: SS-21, SS-21F, SS-22, SS-22F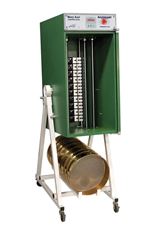 Rotary sifters convert in seconds for 8in or 12in (200mm or 300mm) test sieve diameters. Sieve stack capacity for 8in or 200mm diameter sieves is 10 full height or 20 half-height sieves. Capacity for 12in or 300mm sieves is from 6 full height to 13 half-height sieves.
No clamping is required. Sieve stacks are ready for testing as soon as they are placed in the cabinet. When the test is done, the stack is removed, and sieves are ready for the weighing of sample fractions right away.
Built-in safety features help to comply with OSHA standards. A safety switch stops operation when the door is open. The cabinet enclosure controls airborne nuisance dust and reduces noise. Silent models further reduce harmful noise levels by up to 18dB. Test sieves and drive mechanisms are enclosed by the cabinet.
The digital timer with a large red LED display precisely counts down test times up to 99 minutes. A pause function and one-button operation ensure repeatability. Selectable modes for timing allow the greatest flexibility.
Gilson Rotary Sifters are built with high-quality components and materials for better performance and longer service life with heavy use. Enhanced attention to safety features helps protect personnel.

Impact-resistant MDF board cabinets are precision machined and tightly sealed for maximum dust and noise control. A continuous-duty motor and premium grade bearings ensure trouble-free operation. Heavy-duty commercial grade cabinet hinges allow easy access with wide-opening doors. A side-mounted handle makes it easy to tilt the cabinet for testing.
Gilson Silent Sifters® models feature all the quality design and construction of our Rotary Sifters. They have been designed and constructed with special sound-reducing materials for enhanced worker protection. Silent Sifters have noise levels lower than any other rotary sifter on the market. Floor stands are mounted on 4in locking casters for easy positioning in the lab.
Mary Ann® Sifters are the original, popular laboratory tool and feature traditional enclosed plywood cabinets for safe operation. Separation is aided by tapping from hardwood-faced aluminum hammers. A sieve storage rack is integrated into the support stand.