Rugged and versatile, new crushers excel at processing bulk aggregate, minerals, and ore materials for high-volume lab testing, pilot-plant, and even small production operations.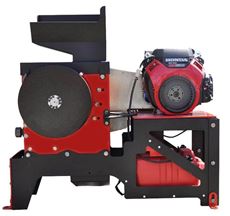 Models: LC-44G, LC-44D, LC-44E
Models: LC-47G, LC-47D, LC-47E
Outfitted with your choice of gasoline, diesel, or electric power, their tough construction allows easy adaptation for the most remote placements or in permanent installations. Both crusher models feature robust design and use heavy welded-steel plate and high-quality materials throughout for uninterrupted reliability in the harshest environments. Top of the line bearings, pillow blocks, and other components mean less downtime and higher production. Crushers are pre-mounted on sturdy welded-steel frames.
Jaw Crusher and Hammermill models can be used independently, but also work efficiently together as primary and secondary crushers for reduction of bulk materials from 8in (203mm) to finer than No. 35 (0.5mm) sizes. Each crusher arrives fully assembled, ready for immediate use.