Crushing is often performed on bulk field samples of harder materials like ores, minerals, and rock. Crushers are often utilized as the first step of sample preparation before mills and pulverizers are used to further reduce particle size.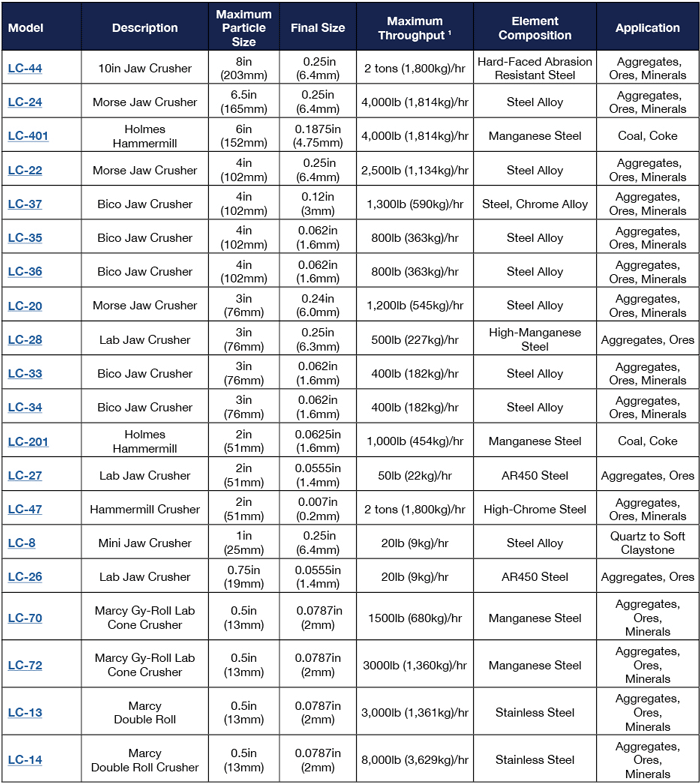 Click the Crushers Comparison Table above to enlarge, print, or download. The table compares maximum particle size, final size, max throughput, element composition, and application.
Jaw Crushers are for primary size reduction of hard rock, ores and minerals and available in several different Bico and Heavy-Duty Morse models. Bico Chipmunk crushers are equipped with reversible plates that extend plate life, and the Badger model has a higher crushing capacity. Morse crushers are heavy-duty and designed for high throughput and oversize feed, and available in models with 3, 5, or 10hp motors.
Portable Crushers is a new line of Hammermill and Jaw Crushers that offer rugged construction, portability and versatility of use. All can be equipped with gasoline, diesel, or electric power.
Marcy® Lab Cone Crusher is ideal for reducing aggregates and mineral ores. The Marcy® GY-Roll 6in (152mm) or 10in (254mm) Lab Cone Crushers have 300lb per hour (136kg) or 600lb per hour (272kg) throughput capacity. Throughput rate is dependent upon the material crushed; with coarser settings, throughput capacity may be higher.
Hammermill Crushers offer throughput ranging from 1,000 pounds to 2 tons (454 to 1,800kg) per hour. The portable units perform well in crushing aggregates, minerals and ores, while the Holmes crushers are designed for crushing coal and coke.
Marcy® Double Roll Crushers are used in intermediate size reduction of medium hard to hard materials such as rock or ore, and can bridge the gap between laboratory and production outputs. Models with 3,000lb per hour (1,361kg) or 8,000lb per hour (3,629kg) capacity reduce most materials from 0.5in (13mm) feed size to minus No. 10 (2mm).