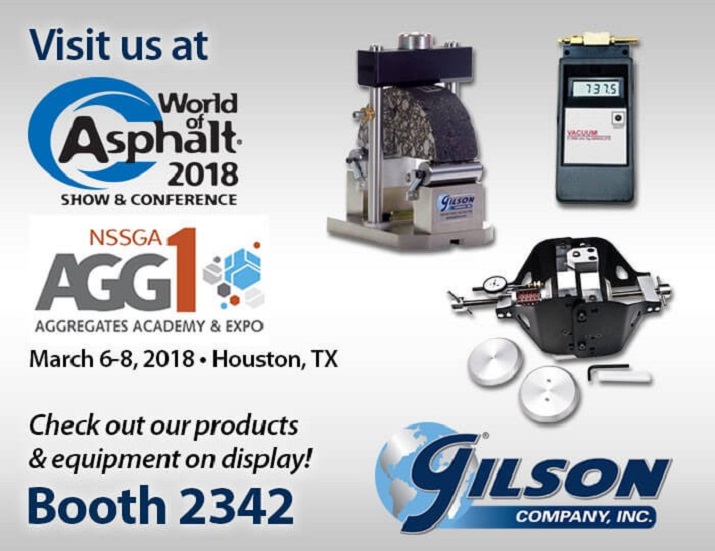 Gilson will be among the 350 plus exhibitors at the combined 2018 World of Asphalt Show and AGG1 Academy & Expo held in Houston, TX March 6-8 at the George R. Brown Convention Center.
The leading asphalt and aggregate industries come together to showcase their latest products and technologies, along with over 120 education sessions to discuss solutions to issues affecting the industries.
Over 9,000 asphalt and aggregates industry professionals are expected to attend the three-day event. You will find Gilson at Booth 2342 in the Main Exhibit Hall – and products on display at our booth include:
Stop by to see these and other Gilson testing products at Booth 2342. Have questions about a particular piece of equipment? Be sure to talk with one of our product and technical specialists to discuss your materials testing equipment needs.
The World of Asphalt/AGG1 Exhibit Hall will be open the following dates and times:
Tuesday and Wednesday, March 6 and 7 from 11:00a.m. to 5:00 p.m.
Thursday, March 8 from 9:00 a.m. to 1:00 p.m.
To learn more about the upcoming World of Asphalt Show, visit their 2018 show page.