Gilson's selection of corrosion detection and measurement equipment features products for testing electrical resistivity of concrete, detecting and mapping steel corrosion in reinforced concrete, and assessing the likelihood of chloride-induced corrosion in reinforcing steel.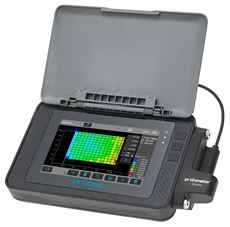 Resipod Concrete Resistivity Meter tests the electrical resistivity of a concrete surface as it correlates to permeability, reinforcing steel corrosion, and the rate of chloride diffusion. Models are available with probe spacing at 1.5in (38mm) to test in accordance with AASHTO T 358 or 1.97in (50mm) for a greater sampling size. Both units feature the Wenner four-probe array and perform well in lab or field use.
Profometer® Corrosion Meter detects and maps steel reinforcing corrosion in reinforced concrete. This advanced software-driven unit quickly measures and documents active corrosion activity and can easily identify corrosion hot spots. It tests in accordance with ASTM C876 and can be converted to a Profometer Cover Meter with the use of a conversion kit, sold separately.
Concrete Corrosion Mapping System provides a quick assessment of the potential for or existence of chloride-induced corrosion of concrete reinforcing steel. This system is used in testing pavements, bridge decks, and other concrete structures, and performs using the half-cell potential method for detecting and monitoring corrosion. It meets ASTM C876.
For more information on Corrosion Measurement Equipment, here are our related blogs: