Gasoline or electric-powered core drilling machines for asphalt and concrete materials offer easy portability and set-up, fast drilling, and low bit wear for the lowest cost per core. Drills have bit capacities up to 8in (203mm) diameter. Contact us for larger bits up to 16in (406mm) for trailer-mounted rigs.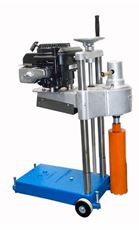 Electric Core Drill with super-duty two-speed motor offers solid performance in asphalt and concrete core drilling.
Gasoline-Powered Core Drill operates independently of a power source and is designed for vertical coring of asphalt and concrete pavement and slabs, and for use in large drilling projects.
For more information on core drilling, here are our related blogs: