Concrete Compression Machines from Gilson meet all ASTM/AASHTO strength testing requirements for conventional concrete test cylinders. A complete selection of compression machine accessories allows easy configuration of all models to test concrete cores, cubes, and flexural beam specimens.


Click the Comparison Table above to enlarge, print, or download.
Electronic controllers on Standard or Automatic series concrete testing compression machines feature options for operational control, data collection, and distribution. Choose a load frame capacity best suited for your testing needs. All models operate on 110V,60Hz power supplies. Add "F" suffix to the model number to order a machine that operates on 230V,50Hz.
Automatic Concrete Compression Machines perform complete test cycles on concrete strength specimens with minimal operator input. After sample preparation and positioning, test type and specimen data are selected, and the test is initiated. Human error for loading and load rate input is eliminated, ensuring efficiency, accuracy, and repeatability of strength test results.

Automatic Controllers perform the selected test methods to the exact requirements of the selected ASTM or AASHTO standard. The controllers also collect and store complete specimens and test data for analysis and reporting.

Gilson Automatic Compression Machines regulate hydraulic loading force by controlling the speed of the electric motor. Advanced electronics regulate motor speeds and oil pressures to supply exactly the required amount of hydraulic force. This energy-efficient on-demand operation prevents pressure variations from overheated oil, extends service life, and is dramatically quieter.

Advanced machine models are outfitted with special hydraulic and electronic networks for load control and measurement of sample deformation to determine the Modulus of Elasticity and Poisson's ratio with the use of specified accessories. Load frame capacities from 250,000 to 450,000lbf (1,112 to 2,002kN) allow the selection of the most cost-effective machine for your application.

Standard Concrete Compression Machines offer a choice of two different electronic controllers with full-range accuracy of ±0.5% and functionality to print or download hundreds of stored test results for reporting and documentation.

Pro Controllers simultaneously display live load and rate of load during testing. Peak load and average load rate are shown at the end of the test and stored for printing or data transfer.
Pro-Plus Controllers display real-time and final loads, load rates, and stress during a test. Final load, average load rate, and peak stress are displayed at the conclusion and stored automatically. The Pro-Plus performs live X-Y plotting of load vs. time. The Pro-Plus features options for sending data directly to a computer or to a printer for plotting, graphing, and reporting.

ASTM C39 permits the initial loading of the specimen at a higher rate for the first half of the test. Loading during this phase must be paused at 10% of the anticipated final load to verify specimen alignment. When resumed, the total load must be monitored to judge when the hydraulic control should be switched over to a metered rate. The metered load rate is adjusted prior to operation to comply with test method requirements.

Standard Compression Machine load frames are available with load frame capacities from 250,000 to 500,000lbf (1,112 to 2,224kN). These frames exceed the American Concrete Institute (ACI) recommendations for stiffness with solid steel crossheads from 3 to 6in (76 to 152mm) thick. Each frame can be fitted with specified accessories to perform strength tests on cores, cubes, tensile splitting specimens, or flexural beams. Contact our Tech Experts for help designing a custom compression machine with a capacity of up to 1,000,000lbf (4,448kN).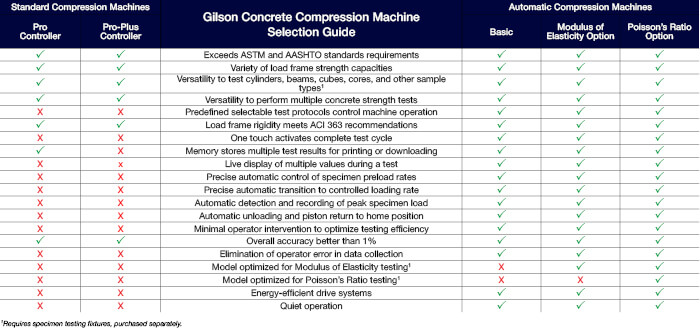 For more information on Strength Testing or Compression Machines, here are our related blogs: