Gilson Consolidation Load Frames are popular in geotechnical laboratories. The load frame uses ASTM and AASHTO test methods to determine the expected soil settlement of pavements and structures referred to as the oedometer test. These consolidation test machines apply precise loads to fine-grained soil specimens to measure the total deformation of under load.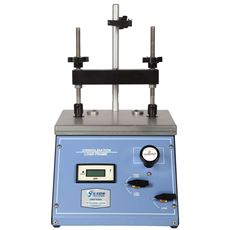 Models: HM-356, HM-356F, HM-354, HM-354F, HM-355, HM-355F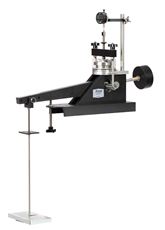 Gilson load frames are manufactured by Karol-Warner and are available with either pneumatic or dead-weight loading mechanisms. These consolidation test machines accommodate floating ring or fixed ring consolidation cells, called consolidometers, from Gilson, Karol-Warner, or a variety of other manufacturers.
Accessories to outfit consolidation machines include linear variable displacement transducers (LVDTs), stainless steel calibration discs, and porous stones. Optional consolidation data acquisition software displays real-time test data from LVDTs or Digital Dial Indicators.
Consolidation Load Frames (Pneumatic) apply and maintain accurate loads to consolidation test specimens using a source of compressed air. Pneumatic loads are applied instantly and maintained precisely regardless of soil specimen deformation. These models feature easier setup and operation and deliver greater overall accuracy than units with dead-weight mechanisms and still stand up to harsh laboratory environments. Available in three models with load capacities that range from 16-64tsf.

Consolidation Load Frame (Dead-Weight) meets specification requirements and provides accurate loads to soil consolidation specimens. Hanging weight sets suspended from a mechanical lever arm apply loads up to 48tsf to consolidation specimens with minimal impact. The dead-weight consolidation load frame is an economical solution for consolidation testing.
For more information on Consolidation Machines, here are our related blogs: