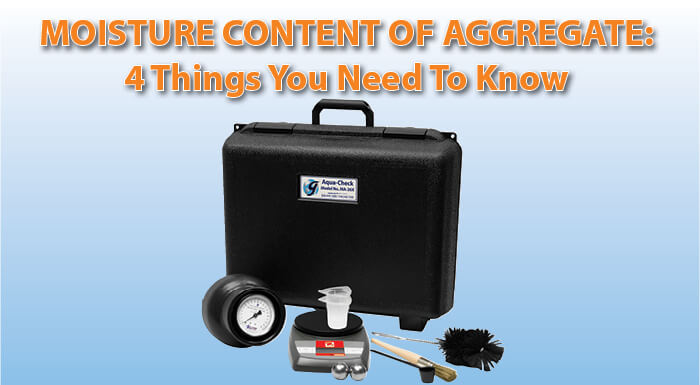 Calcium Carbide Method for Water Content
Reliable moisture information is essential for testing soils, sand, aggregates, ores, and other materials. For testing done in field conditions, devices must often be limited to equipment that is portable and does not require external power to operate. Gas Pressure Moisture Testers meet all these needs perfectly. The test can be conducted in just a few minutes at any location, no power source is required, the results are accurate and widely accepted, and the entire kit packs into a compact, sturdy carrying case.
What is the Purpose of a Gas Pressure Moisture Tester?
For decades, the gas-pressure method for moisture determination has been a proven method to accurately and quickly determine the moisture content of nonreactive materials with a particle size of up to 20mm, in locations where it's not always practical to install an oven or transport samples. This method meets ASTM D4944 specifications and is easily and directly correlated to oven-dry moistures.
What is the Calcium Carbide Test?
These gas pressure moisture devices work as pressure vessels to contain and measure the chemical reaction resulting from combining the moist sample with pulverized calcium carbonate. The reagent reacts with available water in the sample, and the sensitive gauge measures gas pressure in the sealed chamber.
Calcium Carbide (Speedy Moisture) Test Procedure:
A pre-weighed, moist 20g sample is placed in the test chamber with a measured quantity of calcium carbide reagent



The cap is secured on the chamber and the sample is agitated along with two steel pulverizing balls for one to three minutes, freeing moisture from the sample to react with the reagent, producing acetylene gas



The gas generated by the reaction pressurizes the integral dial gauge for direct pressure measurement. The gauge registers 0-20% moisture by weight in 0.2% gradations



The calibration curve is established for each instrument using the general soil types to be tested.



A range of soil samples of different material types and moisture content are selected and then carefully divided into two representative specimens
One specimen is tested with the gas pressure moisture tester and the other is dried in a laboratory oven at 110° ±5°C to a constant dry mass
Results of the two tests are plotted on an X-Y graph and a best-fit curve is plotted through the points
*This procedure is outlined in detail in the ASTM/AASHTO test methods.
What Are the Benefits?
Accurate
Rapid and dependable
Portable for use in the field
Durable, die-cast aluminum body
User-friendly
Integral dial
No power supply required
Compliant

Aligned to meet current ASTM D4944 requirements
Compliant with AASHTO T217 specifications
Meet Florida FM 5-507 methods
Our Recommendation:
The
Gilson Aqua-Check Moisture Tester
or the
Speedy Moisture Tester
are both acceptable for moisture determinations. The U.S.A. manufactured Aqua-Check and the imported Speedy Moisture Tester meets the requirements of standardized test methods. Gas Pressure Moisture Testers make moisture determinations fast, accurate, and simple.
The kits include:
Rugged, cast aluminum pressure vessel
Integral pressure gauge with a certificate of calibration
Electronic digital balance
Reagent measuring scoop
Brush
Cleaning cloth
Instructions in a waterproof case
*Note: Calcium Carbide Reagent is available separately as MAA-44
For more information on Soil, Moisture Testers call us at 800.444.1508 to speak with an expert!