Asphalt Content Furnaces provide an accurate, environmentally-friendly way to determine asphalt content of hot-mix asphalt in as little as 30-45 minutes. A hot mix asphalt sample is loaded into the furnace chamber and heated until the asphalt portion ignites and is burned away. Asphalt contents are calculated in percent before and after weight determinations. Both meet the requirements of ASTM D6307 and AASHTO T 308.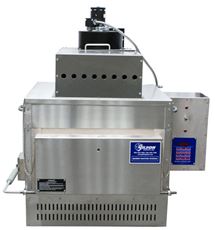 Gilson Asphalt Content Furnace is an economical option requiring initial and final weight determinations on a separate balance, and manual content calculations.
NCAT Asphalt Content Furnace has an internal electronic balance to record interim weights and detect end-point of the test, while the printer reports results.