Gilson's standard and digital Asphalt Melting Pots simplify dispensing of heated asphalt binder for laboratory testing and mix design applications. Melting pots are also useful for dispensing waxes, adhesives and other compounds.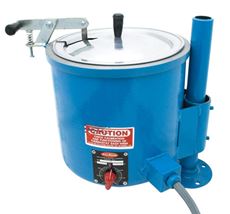 Models: MS-62, MS-62F, MS-64, MS-64F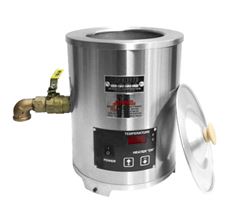 Models: MS-66, MS-66F, MS-67, MS-67F
Dispensing Melting Pots can hold 4qt.or 10qt. (3.8L or 9.5L) capacities and use manual dispensing levers to achieve desired flow rate. A fixed dial controls temperature and a heavy pipe bolts to the bench for adjusting height.
Digital Melting Pots accommodate 6qt. or 10 qt. (5.7L or 11.4L) capacities, have stainless steel exteriors and digital controllers for easy temperature regulation. Steel stands are included to raise the pots to a convenient working height over the bench top.