Gilson Angularity Apparatus measure the void content of aggregate to calculate angularity, sphericity, and surface texture. NCAT research correlates aggregate angularity values to deformation and fatigue cracking in asphalt pavements. Separate devices for fine and coarse aggregates both meet listed test methods.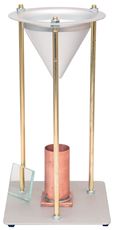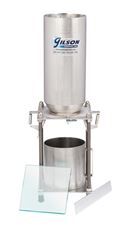 Devices for fine aggregate and coarse aggregate each measure the loose, uncompacted void content of aggregate samples. Each set includes the hopper, stand, volumetric measure, and glass plate required to perform the test. A sample placed in the hopper is allowed to flow freely into the cylindrical measure. The sample and calibrated measure are weighed and uncompacted void content is calculated.
Fine Aggregate Angularity Apparatus meets the requirements of the ASTM C1252/AASHTO T 304 method to determine angularity and sphericity properties. The spatula used to strike off the sample is ordered separately.
Coarse Aggregate Angularity Apparatus meets AASHTO T 326 requirements for measuring uncompacted void content to calculate angularity, sphericity, and surface texture. Set includes a strike-off bar and glass calibration plate.
For more information on Void Content of Aggregates, read our related blogs: