Riffle Splitters in Micro and Precision models quickly divide granular materials and fine powders for representative sampling.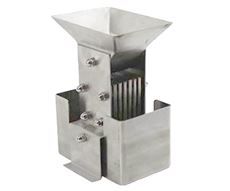 Micro Riffle Splitters feature an open feeder to guide material past 0.125in (3.2mm) chutes. Designed for materials with 1 to 1.5mm topsize, models are available with all-stainless steel construction for reduced sample contamination.
Precision Splitters are similar, but have larger capacity gated hoppers with 0.25, 0.375, or 0.5in chute sizes.