Riffle Splitters quickly divide granular materials and fine powders for representative sampling. Precision Splitters have a quality and design similar to Jones Splitters but feature a larger selection of chute sizes, and they have all-stainless steel construction and gated hoppers. Jones Splitters have rugged construction and provide accurate sample dividing and long service life for smaller samples of granular materials and powders.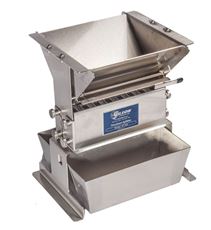 Models: SP-300, SP-302, SP-304, SP-306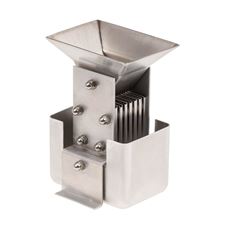 Models: SP-171, SP-171X, SP-173, SP-174, SP-175, SP-177

Precision Splitters are available in four different chute sizes and three different hopper capacities, the riffle-type Precision Splitters offer accurate splitting for a wide range of sizes. All are constructed of heavy-gauge stainless steel with gated hoppers and feature quick disassembly for easy cleaning.
Jones Splitters are constructed for long service life. SP-171 and SP-171X feature an open feeder to guide material past 0.125in (3.2mm) chutes and are designed for materials with 1 to 1.5mm topsize. SP-171 is constructed with a stainless steel feeder, and the chutes and pans are made of hardened aluminum. The SP-171X is constructed of all stainless steel contact parts to avoid sample contamination. Jones Splitters SP-173, SP-174, SP-175, and SP-177 feature a gated hopper design to hold material until released and are sized for larger sample volumes. Chute widths range from 0.125 to 0.5in (3.2 to 12.7mm). Precision splitters have a stainless steel frame and hopper, and the pans are constructed of aluminum.
For more information on Riffle Splitters, here are our related blogs: