Digital PH meters offer convenience, accuracy, and quality performance when determining pH measurements in the lab or field. Units are affordable and feature easy-to-read LCD display screens with a unique, waterproof design and long-lasting battery life.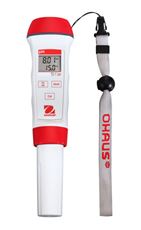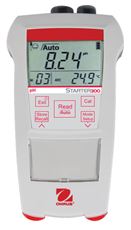 Durable units are designed for years of maintenance-free service and are supplied with a Meter, Case, Calibrating Buffers, and instruction manual. Select a model according to the required features and operational environment.
Pen pH Meters from Ohaus are ideal for prolonged use in rugged environments and show measurements in the 0 to 14pH range. The waterproof design prevents water damage when dropped in liquid and the automatic shutdown feature helps preserve battery life for field use up to 200 hours. Available in the economy and standard models.
Portable pH Meter, also from Ohaus, is versatile and reliable either in the lab or field with a compact, adaptable design for a wide range of environments. IP54-rated protective ABS plastic casing shields the meter from water and dust damage. The data library stores up to thirty measurements for future reference and units operate for approximately 500 hours on four included AAA batteries.