Gilson Reverification of Sieves confirms that your in-service sieves continue to meet ASTM or ISO specifications as they age.
Your sieves are shipped to our Verification Laboratory, where they undergo a process identical to the Verification of New Sieves. Gilson individually measures a specified number of openings in each test sieve using a NIST traceable optical comparator. The computerized system performs a statistical analysis of the measurements and provides a verification report to document that the sieve meets Inspection grade or Calibration grade ratings.
For more information on the process, read our blog Sieve Reverification FAQ's.
Sieves with backing cloth installed cannot be verified to Inspection or Calibration grade.
ASTM E11 Test Sieve Reverification for sieves with popular frame diameters from 3in to 18in, and mesh opening sizes from 4in to No. 635 (100mm to 20µm); can be reverified to Inspection or Calibration Grades.
ISO 565/3310-1 Test Sieve Reverification for sieves with 200 or 300mm frames in all ISO mesh sizes; can be reverified to meet Inspection or Calibration Grade requirements.
Sieve Reverification Process: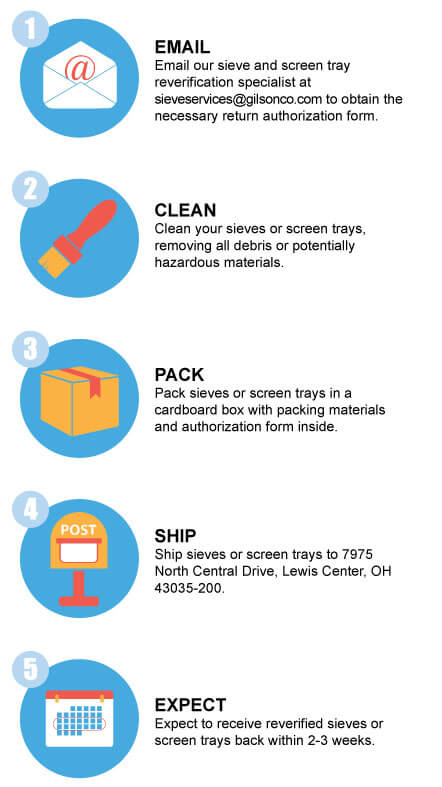 For more information on Test Sieve Reverification, here are our related blogs: