Humidity and weather meters accurately measure temperature, humidity, wind speed, dew point, and other environmental factors that can impact concrete curing. Monitoring these factors and following guidelines of ACI 308R to adjust curing methods can prevent excessive evaporation rates and mitigate plastic shrinkage. Gilson's selection of humidity and weather meters provide accurate, quick results for a range of weather and environmental issues.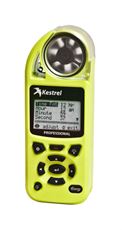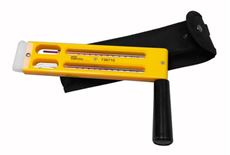 Temperature/Humidity Data Logger with USB & Display stores over 16,000 readings for temperature and humidity. The temperature range is -31°–176°F (35º–80°C) and 0–100%RH measurement range. Display shows live data and programmable alarm lights.
Kestrel® 5200 Professional Environmental Meter is a handheld weather meter offering basic and specialty calculations onsite for quickly determining evaporation rate, temperature, air and density, relative humidity, and more. The American Concrete Institute's Evaporation Rate nomograph from publication 308R is integrated into this meter. Models available with and without Bluetooth connectivity.
Sling Psychrometer is a handheld humidity meter that provides quick and accurate readings of relative humidity. It can be used to monitor laboratory moist room curing conditions or environmental conditions in the field. The spirit-filled wet-bulb and dry-bulb thermometers have a temperature range of -5—50°C (20—120°F). Determinations are made by comparing readings to the included humidity chart.