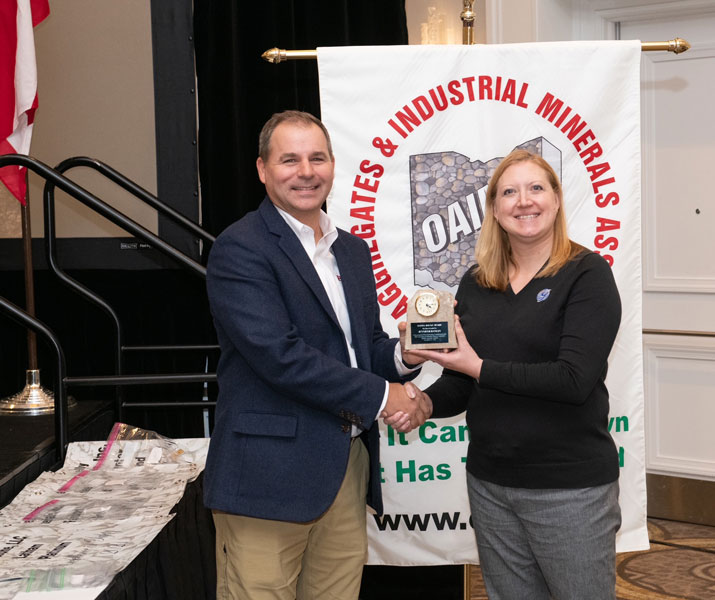 OHIO AGGREGATES & INDUSTRIAL MINERALS ASSOCIATION
746 MORRISON RD.
COLUMBUS, OH 43230
CONTACT: PATRICK A. JACOMET
(614) 428-7954
FOR IMMEDIATE RELEASE
JANUARY 10, 2022
Aggregate Association Honors Jennifer Hanley of the Gilson Co. with Rocky Award
Jennifer Hanley of the Gilson Co. was presented with the "Rocky Award" in recognition of her support for the industry at the Ohio Aggregates & Industrial Minerals Association (OAIMA) 2021 annual meeting and trade show.
OAIMA executive director, Patrick Jacomet, stated, "Jennifer has long been a leader within our association and has been extremely supportive of our educational efforts. She is also active at the national level through her work with ASTM, AASHTO, and other specifying agencies. Her recent work on our MACC Tech program will be instrumental in the promotion of our vital industry as a solid career-choice."
With over 250 members statewide, the Ohio Aggregates and Industrial Minerals Association represents all the state's mining operations, except coal along with companies that supply goods and services to those operations. These commodities valued at over $1.2 billion, include mostly construction materials, both natural and manmade, such as aggregates (sand, gravel, slag, crushed limestone, dolomite, and sandstone), salt, clay, shale, gypsum, industrial sand, building stone, lime, cement, and recycled concrete. Every Ohioan uses over 10 tons of these products, each year.
For more information visit www.oaima.org