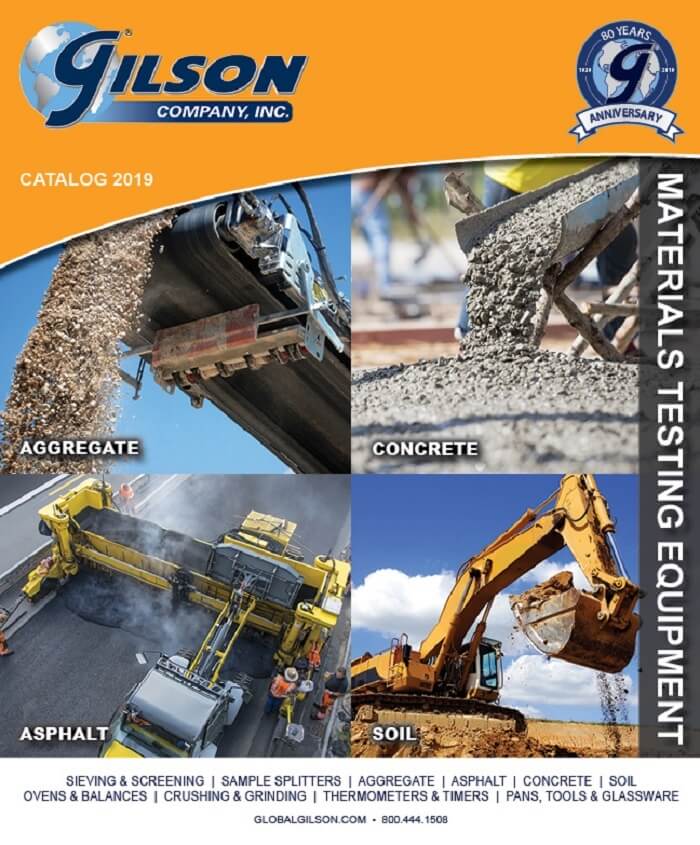 The 2019 Gilson Catalog is here and ready for mailing or immediate download as a PDF file.
Gilson's 2019 Materials Testing Equipment Catalog is now available at no cost and can be requested online or by calling Gilson at (800) 444-1508. Need a copy now? Simply click here to download and save the 2019 Gilson Catalog in PDF format for immediate use.
The 2019 catalog is a comprehensive resource and listing of concrete, asphalt, aggregates, and soils equipment available through Gilson Company, with detailed information and specifications on products throughout the catalog.
Industry professionals rely on the Gilson catalog not only as their source to learn about our innovative products for use in the lab or field, but also as a helpful informational guide. Our catalog features equipment for construction materials testing, general laboratory testing, new products and more! Be sure to check out the back cover of the 2019 catalog for a brief history of Gilson's "80 Years of Excellence in Material Testing Equipment!"
In addition to the product listings, the catalog contains useful information such as:
Exciting new products featured on the inside front cover and throughout the catalog – look for the orange NEW symbol
Huge selection of sieves and sieving accessories
Wide array of original and traditional Sieve Shakers
Solid variety of Gilson screening machines
Sample Splitters and Dividers
Equipment for Soils, Concrete, Asphalt, and Aggregates
Crushers, Pulverizers and Mills
General Lab Equipment, including Ovens, Scales and Balances, Thermometers and Timers
The catalog also contains useful information and tips including:
Diagrams & Illustrations
Helpful Hints
Also Available
Tech Notes
New Product Indicator
Product Spotlight
Index of ASTM, AASHTO and other test standards (with related products)
Ship Weight Index
Visit us online to add the free 2019 Gilson Catalog to your shopping cart for easy access to a listing of our materials testing equipment throughout the year.