Dynamic Shear Rheometers (DSR) determine characteristics of asphalt binders to resist damage from factors such as age, mechanical forces, cracking, temperature, and more. These DSR units allow accurate prediction of performance of asphalt over time by testing under different load and environmental conditions. Data is also used for classification of performance-graded asphalt binders.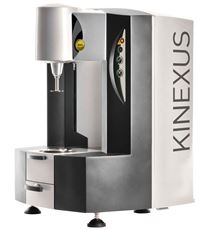 Kinexus Dynamic Shear Rheometers provide optimum performance in the lab for quality control and assurance, as well as in advanced research facilities with greater testing capabilities. Both Kinexus units meet ASTM and AASHTO requirements and function with rSpace software. The DSR-E has wider torque and temperature ranges with greater sensitivity.
Anton Paar Dynamic Shear Rheometers offer reliable performance in everyday, routine testing, and quality control in asphalt production facilities. They perform exceptionally well in classifying SHRP/SuperPave PG binders. The SmartPave ll model fully complies with ASTM and AASHTO temperature control requirements. Both units are supplied with RheoCompass™ Software.