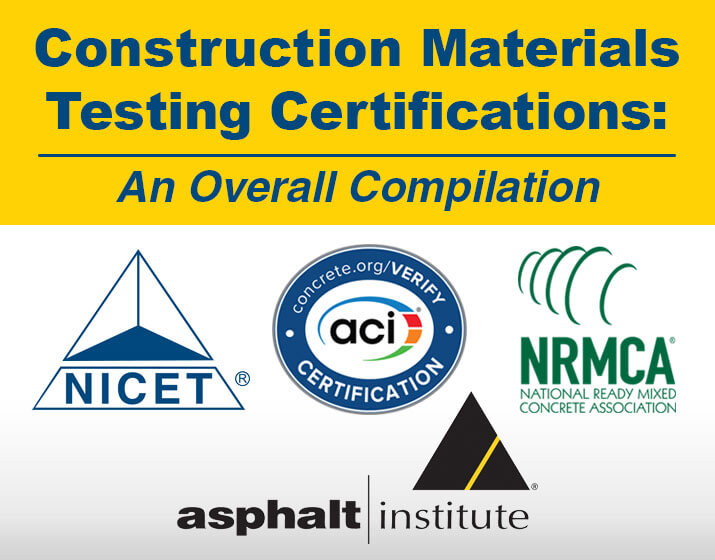 Since June, Gilson has shared a series of monthly blog posts with information and resources related to various technician certifications in construction materials testing. A video, Gilson Construction and Materials Training and Certification, is now also available online.
There have been a few changes in the industry over the past several months, and this final blog includes new information, updates and additional resources we've learned about. We are also summarizing a few key take-away points. Finally, this blog post links later to a PDF file of online resources with useful information related to the certification, study materials, examinations, and more.
Points to Remember:
Certification offers value. Whether earned through the American Concrete Institute (ACI), Asphalt Institute (AI), National Institute for Certification in Engineering Technologies® (NICET), or the National Ready Mixed Concrete Association (NRMCA), a technician certification indicates more than a passing score on the written and/or performance exam. It also shows the industry that you have gained additional expertise and skills that strengthen your value in the workforce and career. It gives you that competitive edge, especially with state and federal government entities which must align with the Federal Highway Administration's Code of Federal Regulations, 23 CFR, Part 637 when awarding contracts.
There is often a progression of higher-level certifications that must be followed from the lowest rung to the highest. NICET certifications are a perfect example, as this organization offers programs in asphalt, concrete and soils certifications with specific designations starting at Level I and progressing to Level IV.
Prepare for and test through a recognized state or national entity. Including those listed above, there are numerous other industry-recognized organizations that offer training/study materials, preparation classes, and testing for certification and recertification. This group includes, but is certainly not limited to, the National Center for Asphalt Technology (NCAT) at Auburn University, state Departments of Transportation (DOT), colleges and universities – which often partner with their state DOT, ASTM and AASHTO, National Asphalt Pavement Association, the Federal Highway Administration and National Highway Institute, and more. Keep in mind that your years of experience may not be all you need to get that certification. It's important to prepare sufficiently and thoroughly as the certification exams are detailed, and may include both a written and hands-on performance component.
Here's What's New:
It's worth repeating that there is a benefit to checking out local universities and any partnerships with their respective state Departments of Transportation (DOT). There have been articles recently in industry publications indicating that some colleges now offer road construction technician certification courses as part of the curriculum to help offset worker shortages that exist within some areas of the country.
As stated earlier, a Resource List of useful websites is available in PDF format, which allows for downloading or direct clicking to each site included in the list.

You can check out the first five blogs in this series, Construction Materials Testing: 7 Things to Know About Certification, The Road to Earning a Technical Certification in Concrete, Paving the Way to an Asphalt Technician Certification, Preparing for an Aggregate Technician Certification, and Soil Technician Certification for Materials Testing: Is it for you?
In closing, we hope the information provided through this series over the past several months has been useful and relevant in the pursuit of achieving a technician certification and advancing your career.