Concrete core drills powered by gasoline or electric add versatility for sampling concrete or asphalt materials. They feature easy set-up, fast coring and low bit wear with bit capacities up to 8in (203mm) diameter. Contact Gilson for bits up to 16in (406mm) for use with larger trailer-mounted rigs.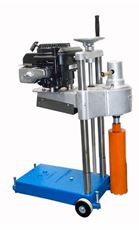 Gas-Powered Core Drill offers solid performance for vertical coring of pavements or slabs and is ideal for larger projects. Operates remotely, independent of power supplies. This drill easily adapts for mounting to a pick-up truck.
Electric Core Drills are adaptable for many different concrete and asphalt coring applications. The rotating column allows for precise horizontal or vertical placement of the coring bit for sampling slabs, pavements, and structures. Models available to operate at 115V/60Hz or 220V/50-60Hz.